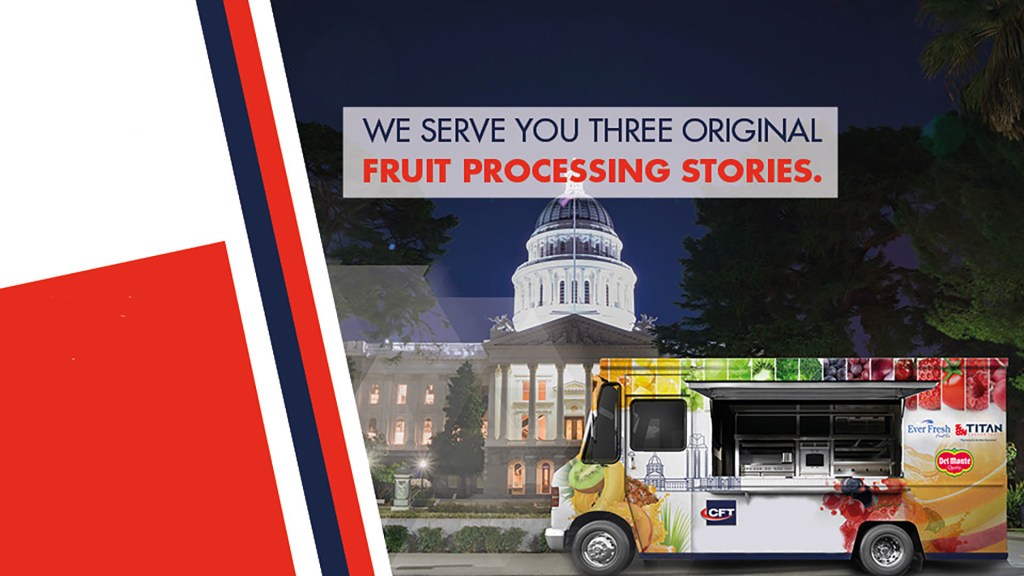 Peach and strawberry processing
As a world leader in the Fruit Processing Industry, CFT Group aims to give a 360° service. That's what we do: we drive our customers to the best and most complete solution thanks to our food processing technologies; and that's what happened in the USA with Del Monte Foods, Titan Frozen Fruit and Ever Fresh Fruit companies, which needed CFT Group's know-how to achieve their peach and strawberry processing goals.
Fruit processing optimization and costs
Del Monte had a challenge on its hands. They were purchasing #10 cans at a cost of approximately 60 ¢ per can to hold product until it could be re-processed into plastic cups. As cans got more expensive, Del Monte wanted to know, "Can we process peaches into a bulk container so that we can save money on short-term packaging? As importantly can we do it while preserving the texture and flavor that we are used to?"
Del Monte engineers, plant operations, outside consultants, and CFT Group met numerous times to discuss possible solutions. One of the major obstacles to overcome was texture. Del Monte was convinced that canning would always produce a superior finished product to bulk processing regardless of the cost savings in packaging. However, CFT Group was confident in their capabilities and built trust with Del Monte.
Everyone was anxious at startup. Would the line perform as promised? Would the texture be as good as cans? The fear was soon extinguished as the first bins from the line came off for inspection. The peaches had a wonderful color, the edges were well defined, and the texture was better than cans! Not only that, but each bulk bin produced saved Del Monte approximately $160 in packaging costs.
Features:
Capacity: 12 tons/hour fruit dices in syrup
Ohmic heating technology and double piston syringe pump
Final aseptic package: 55 gallons bags in drums, 300 gallons bags in bins
Peach processing: diced peach
Del Monte peach dices in syrup are processed from ripened fruits from the Central Valley of California.
After fruits have been washed with clean water, they are halved, destoned and peeled.
Peeled halves are then processed through a sharp dicer to obtain perfectly defined dices of the desired size (such as 16×16 mm).
At that stage, the dices pass through an optical sorter that rejects foreign bodies as well as pit fragments.
Clean and sorted dices are then blanched into hot syrup and finally pumped through a CFT Group Ohmic sterilizer that brings up the product temperature to about 88°C (190°F) rapidly and uniformly.
The product that has successfully gone through the thermal process, gets cooled to about 32°C (90°F) and is aseptically filled into multi-layer protective bags in bins that will preserve all its freshness and firmness without any preservative or chemical until the moment when it is going to be used for its final recipe.
Fruit processing aseptic line for EverFresh
Ever Fresh had a project in their mind. Customers were lining up to purchase aseptic products but producing those items was easier said than done. To complicate matters, their process needed to be a batch system – something rarely done on an aseptic line – and several different recipes needed to be made in the same day!
CFT Group and Ever Fresh teams worked together on this challenge, each one bringing its own background of know-how and expertise to create a unique technology that matched these demanding requirements.
Line features:
Flexibility to run several different recipes per day
Fully automated recipe management
Full range of final packages: small bags (1 to 5 gallons), bags in drums (55 gallons), bags in bins (300 gallons)
Aseptic batch technology for minimal product losses between recipe change.
Strawberry processing: a high-quality topping
Ever Fresh strawberry topping is produced from individually quick frozen strawberries from the North West of the US. Frozen strawberries are conveyed to a CFT Group's processing line where they are dumped into a mixer equipped with a horizontal rotary coil heated by live steam. Aseptically packed strawberry puree is pumped into the mixer together with other ingredients such as powdered sugar, aromas and thickeners.
Every ingredient is accurately weighted and dosed according to a proprietary recipe, stored in the system PC, to constantly maintain the quality standards of the product one batch after the other. Once the ingredient dosing is completed, all ports on the vessel are automatically sealed and the whole batch is brought up to a temperature of about 88°C (190°F). After a brief holding time at target temperature, the batch is then transferred to a cooler with a horizontal rotary coil cooled by glycol water.
Finally, the strawberry topping is aseptically packed at ambient temperature intro protective bags in bins that will preserve all the flavors of the product without the need of any preservative or chemical.
Strawberry processing plant for Titan Frozen
Titan Frozen Fruit contacted CFT Group because they wanted to know: could CFT create a state-of-the-art, greenfield strawberry processing plant that would raise the bar of quality within the industry?
During the initial meetings, Titan staff saw photos and videos of existing CFT Group's fruit processing lines. There was some skepticism about color and texture seen in the photos. Not yet convinced, the Titan staff travelled to Italy in order to better understand what CFT Group had to offer. During this visit, CFT showed in large details one of its Italian strawberry processing installations.
The second part of the trip took the Titan and CFT Group teams to Balikeshir (Turkey) where they visited a recently delivered line in full production. Titan people could see firsthand that strawberries could be processed in such a way that they retained their natural color and flavor.
After these visits the Titan team was totally convinced they had found a solution for their goals.
Features:
– Capacity: 6 tons/hour of raw strawberries
– Zenith anaerobic cold extraction with fast enzyme deactivation
– Mixflow Evaporator with aroma recovery unit
– Olimpic TCM pasteurizers/sterilizers featuring patented ogive flange exchanger
Strawberry processing: strawberry puree
Titan's strawberry puree is processed from fully ripened fresh fruit originating from the central coast of California, the world's leading producer of strawberries.
Our process is studied in every detail to bring the full flavor and fragrance of the fresh fruit to our final customers.
After strawberries have been properly washed with clean water and inspected, puree is separated from seeds and leaves with a patented "Zenith" process from CFT Group including an anaerobic environment puree extraction followed by rapid enzyme inactivation.
Without any delay the puree gets pasteurized and rapidly cooled down for final filling and blast freezing.
Interested in the best Fruit Processing Technologies? Contact us!