Thanks to our extended know-how in the Non Food Packaging field and also thanks to the long-term expertise acquired in the years by our brand Comaco, we are able to offer different premium filling technologies, each of them presenting different benefits.
BENEFITS of cft lube oil lines
High filling accuracy
Quick product changeover
Strong structure combined with compact dimensions
Low maintenance requirements
COMPLETE LINE FOR LUBE OIL AND CHEMICALS
Discover the CFT solutions!
Play video
FILLING AND PACKAGING LINES
The core equipment of the entire packaging plant provided by CFT Group, for Lube Oil and Chemicals, is the filling machine and, within this range of equipment, we are able to offer two different filling technologies: volumetric fillers and weight fillers, inline or rotary type, to suite each specific demand or need. Our filling machines can fill a wide range of formats and our innovative packaging solutions can complete any turnkey line in order to meet any customer requirement through one unique provider. We are able to fill and handle containers made of different materials such as metal, plastic or glass, usually with a capacity range which starts from 0.25 L up to 20 L.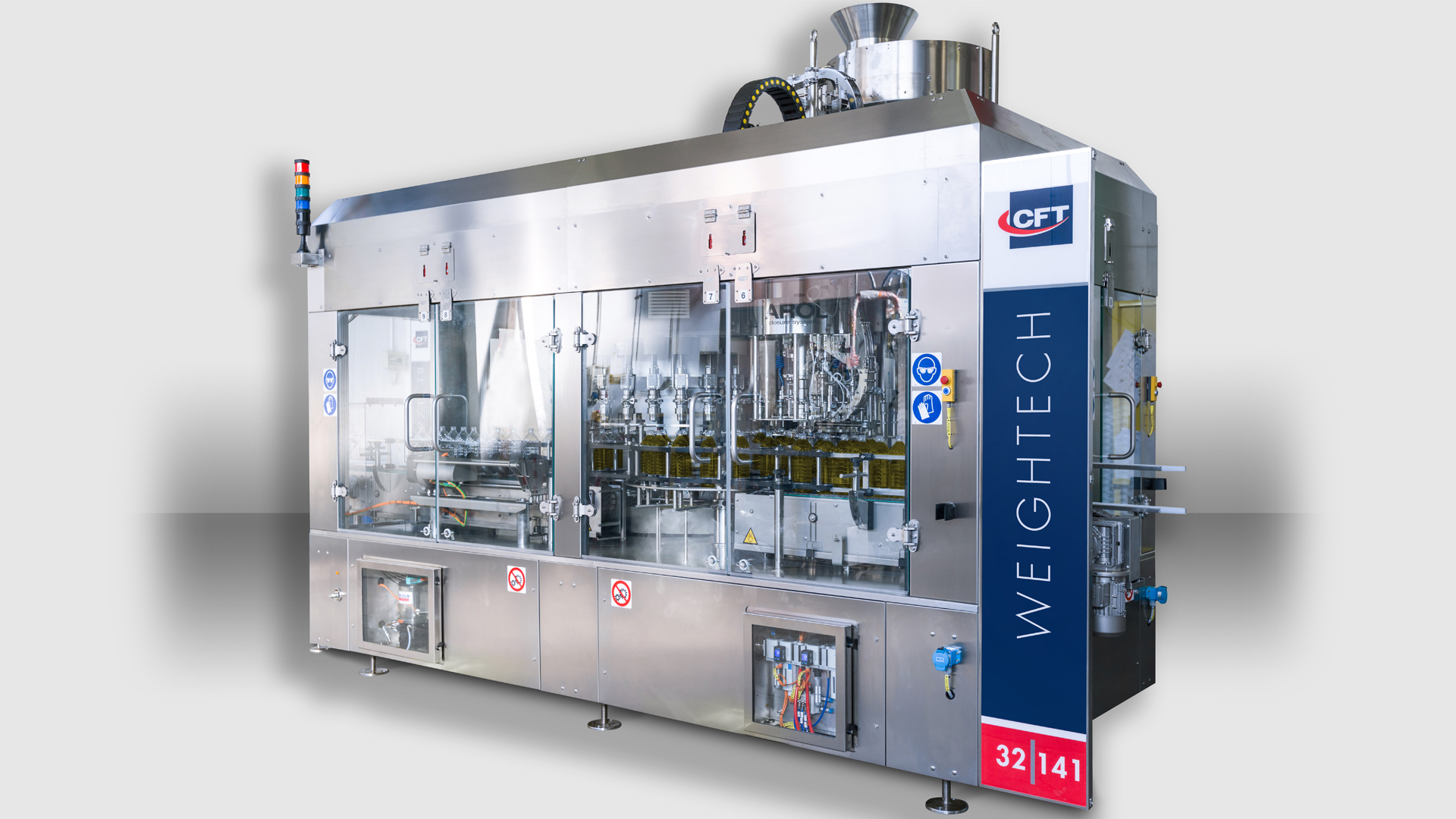 WEIGHTECH: WEIGHT ROTARY FILLER MONOBLOCK
Our state-of the art- machinery for Lube Oil filling is indeed represented by the Weightech, our rotary weight filling machine, able to fill various products and particularly suitable for filling lubricant oil and chemicals.
The Weightech filler can be supplied in different configurations; as a stand-alone machine, as a filler / capper monoblock or paired up with one of our seaming machines. It is able to fill glass containers as well as plastic HDPE, PET and metal containers.
WEIGHTECH benefits
Net or gross weight filling can be easily selected by the operator from the HMI interface.
Filling program can be set-up by the operator according to the product, type of container and product physical conditions.
The machine has a self-adjusting program following the changes of product temperature, viscosity etc. The machine can also adjust its filling speed and its tank pressurization, assuring the best filling conditions.
END OF LINE SYSTEMS
We also provide complete end of line systems composed of premium depalletizers, palletizers, conveyors and dedicated robotic systems.
COMPLETE LINE FOR LUBE OIL IN DRUMS
CFT Technologies for Non-Food