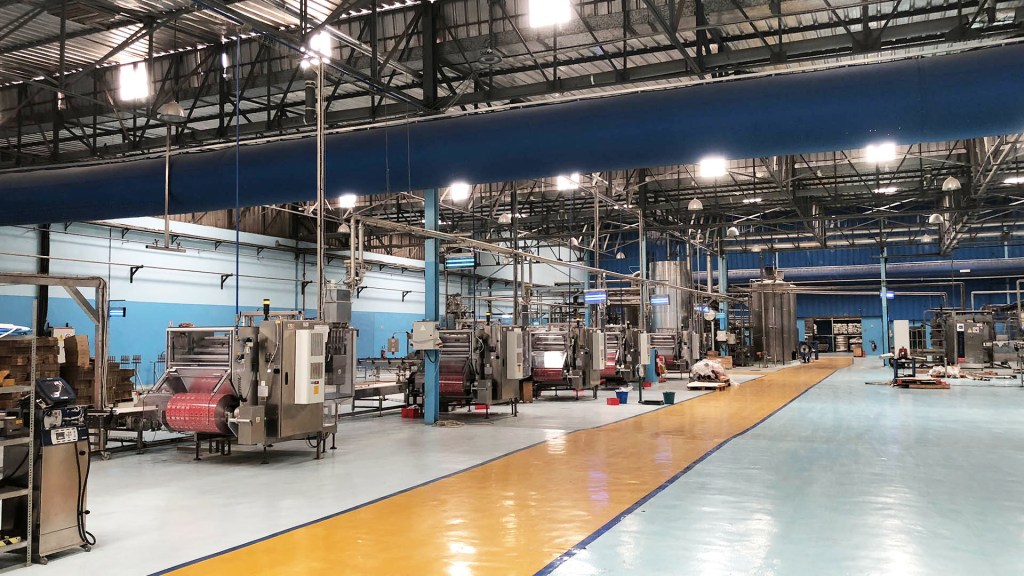 Tomato lines in the Ivory Coast
The Carré d'Or Group is one of the principal players in the economic growth of Abidjan and the Ivory Coast. The company is one of the biggest industrial groups in west Africa, and this project is about the designing and installation of tomato lines and other technologies for them.
After having imported and distributed tomato concentrate, ketchup and canned legumes for years for the local market, the Carré d'Or Group decided to create a plant for its own production of these products and to create a company dedicated to tomato processing on the Ivory Coast, whose name is Tomaci. The company detected three fundamental needs for identifying the ideal partner for the project's development:
Having one supplier for the majority of the production lines
Being able to rely on a partner with experience in the processing technologies of all types of foods
Finding a supplier with a solid know-how and a strong vocation for export
All the major manufacturers of machinery for the food industry were consulted, and each was asked to present their work plan, including references and pre and post sales services that best fit with such a project for tomato processing on the Ivory Coast.
Competition was very fierce, considering also the overall value of the project and the challenge represented by building something entirely new, complete and with an undoubted impact on the industrial development of that area of the African continent.
The history, the references and the complete offer put in place by CFT Group convinced Tomaci and the Carré d'Or group to entrust us with the task: a challenge and a responsibility that we welcomed with intense pride.
Tomato concentration for Tomaci
The first two plants for processing tomato purée and producing ketchup built for Tomaci date back to February 2015. The two preparation lines, with capacities of 5000 and 2500 kg / h, were allocated to packaging the product in cans and aluminium foil plastic sachets and pouches.
The two lines were designed ad hoc taking into account the customer's request to obtain high viscosity values of the final product.
In December 2015 the factory was expanded with two more lines, the first for packing the tomato sauce in 2.2 kg and 400 g cans, the second for the rehydration, cooking, filling and sterilization of legumes in 400 and 800 g cans.
In 2019 we supplied Tomaci with two more tomato processing lines, to produce tomato-based sauce and ketchup, with a capacity of 2500 and 3000 kg / h.
Tomaci had no experience in the production of tomato-based sauce: for this reason, a fundamental part of our work was to provide continuous training and assistance in the field, and also adapting and modifying the equipment sold after their start-up.
The latest tomato processing lines supplied to Tomaci include many of the most advanced CFT Group technologies for food processing. Below is a summary of the machines and technologies designed and installed over time for Tomaci.
Technology for ketchup production and tomato concentration
5 t/h capacity lines for tomato concentrate processing, made up of:
Tomato concentrate drum emptying unit
Ingredient preparation section (such as salt and flavourings)
Phenix model continuous system for the standardization of the final product
Olimpic model tube in tube pasteurizer
2.5 h/t capacity ketchup production lines made up of:
Concentrate drum emptying unit
Ingredient preparation section (vinegar, salt, water)
Vulcano S model cooker for the mixing and cooking of the ingredients
Olimpic model tube in tube deaerator and pasteurizer
Spiral for pasteurization / cooling of sachets and pouches (70 g, 500 g and 1 kg)
Line for filling 400 g and 2.2 kg tin plate cans
Rehydration line for legumes and autoclaves for the sterilization of the canned product.
No. 5 rehydration tanks
12-30 model continuous cooker/blancher
CFT CS1200 model semi automatic crate loader
Prima model No. 3 static sterilization retort
CFT DS1200 model semi automatic crate unloader
Line for filling vegetables in 800 g cans
CFT 201S model depal
CFT RVA 30 model pocket filler for inserting legumes in boxes
CFT VF16 + 2000/4L model vacuum filling and seaming group for adding preserving liquid and crimping the boxes
Supply of 20L line for the production of 2500 kg/h tomato sauce made up of:
Tomato concentrate drum emptying unit
Vulcano S model cooker for the mixing and cooking of the ingredients
Tomato sauce and ketchup production
Line for the production of 3000 kg/h tomato sauce and ketchup made up of:
Tomato concentrate drum emptying unit
Vulcano S model cooker for the mixing and cooking of the ingredients
Horizontal storage tank
---
"CFT Group has made our machinery with quality materials and automation of a high standard, assisting us for all the time necessary to make the lines purchased efficient and reliable. The company has also provided us with very satisfactory after-sales service, which has allowed us to never have to stop the plants. Our lines have been working 6 days a week in 3 shifts, for a total of 130 hours per week for over 3 years."

Dr Alessandro Abbo – Tomaci Technical Manager
---
The launching of the last plants took place in August 2020 and we are definitely satisfied with what we managed to build for Tomaci. A complete, state-of-the-art factory, with great yield potential. Another successful project, which confirms us as a reference partner for African companies that are investing in the development of the food sector in their countries.
---
Tomato paste/concentrate import in Africa, 2015-2020 average*
*source: Trade data Monitor LLC via tomatonews.com
---
Alberto Quintavalla – Regional Sales Manager
Nicola Pisani – Processing PM Engineer