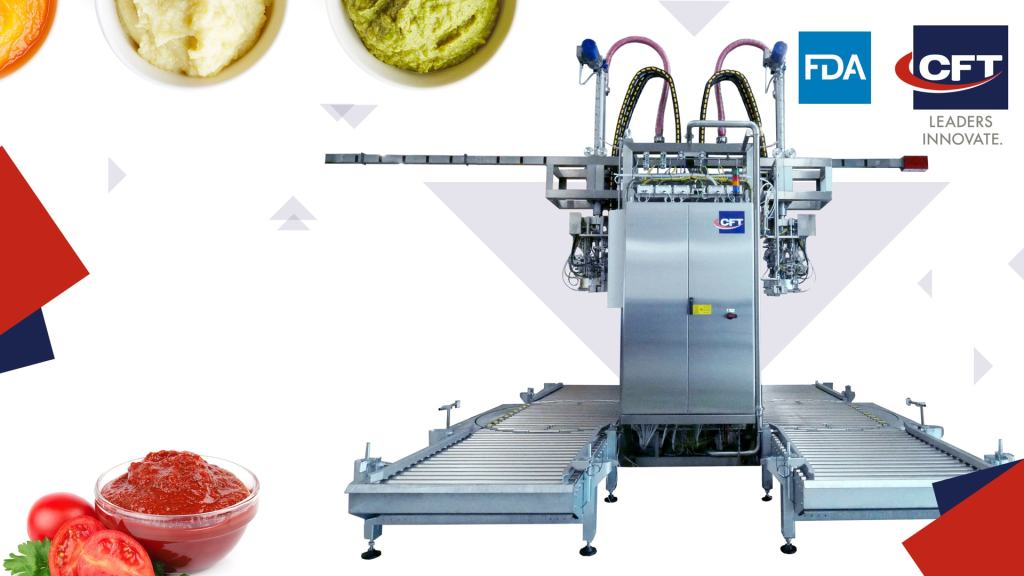 CFT Group Obtains The F.d.a Compliancy For Its Macropak Af/2 Aseptick Filler
During the last months
CFT Group's Macropak AF/2 Aseptic Filler has been tested and checked by the American Food and Drug Administration (F.D.A), and has finally gotten the compliancy approval, by obtaining the relevant certification. In the U.S.A the filling of low acid products, such as fruits and vegetables having a pH of 4,5 or above, is regulated by the F.D.A, who guarantees that the most severe safety and hygiene standards are met by any equipment involved in the industrial process.
I.E.H. Laboratories and Consulting -the agency in charge of issuing the F.D.A compliancy- has been collecting and evaluating all results from CFT Group's R&D Department tests realized on the Macropak AF/2. After a meeting with the Authority experts, our engineers and technicians have worked together to properly set the machine's performances, by carefully following I.E.H. directions to finally be 100% compliant with all the required standards.
F.D.A APPROVAL: WHAT IT MEANS
As its mission states, the American Food and Drug Administration "is responsible for protecting the public health […] by ensuring the safety of our nation's food supply, cosmetics, and products that emit radiation". Systems and technologies of the Food Processing industry too, including the filling of low acid products, are regulated by this Authority.
The F.D.A approval is therefor of paramount important since all companies who export Food products to the U.S "must provide to F.D.A information related to the specific products and the manufacturers of the products".
MACROPAK AF/2 ASEPTIC FILLER
Macropak AF/2 is a two heads filler for packing semi-finished or finished food products, liquid, semi-liquid, highly viscous products or containing pieces, in pre-sterilized bags.
For products having pH > 4,5 (low acid) the sterilization of spouts, caps and filling chamber by mean of steam or heat only is not enough.
The chemical agents used by Macropak for this application are:
Peroxide at a 33-35 % of concentration
Oxonia active at a 3-5% of concentration
CFT Group's standard Aseptic Filler for High Acid applications is equipped with a "Low Acid Kit" to manage the chemical sanitization required. Macropak AF/2 is the two heads aseptic filler machine for semi-finished or finished food products, in 3 different formats: small bags, drums, bins.
Its main features are:
Rolling conveyor and pallet rotation wheel allowing automatic positioning of the cap under the filling head
Ability to fill 3 different formats (bins/pouches/drums)
Reduced time for assembly and installing: 1 day
Quick plug and play connection of the filling head for easy maintenance operations