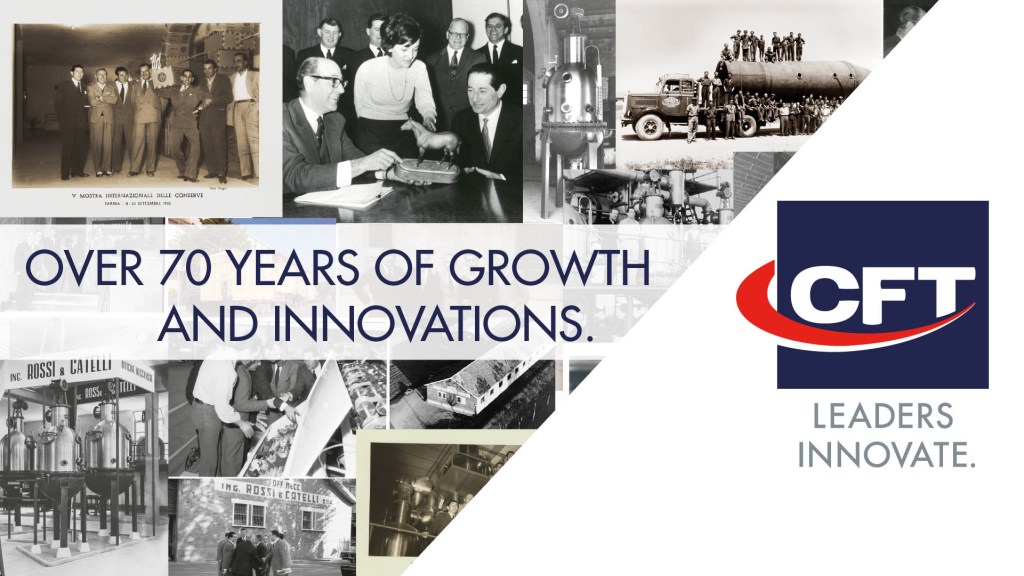 CFT Group history: our 75th birthday
It all started during the tomato campaign of 1945…
A terrible war had just ended, and people were filled with feelings that had been hidden for too long. Freedom. Hope. Desire for rebirth.
The history of CFT Group stems from there, from the passion and determination of Camillo Catelli, who begins to design the first models of tomato processing machines. Technologies that would have soon become world standards.
The stages of this story tell of a continuous growth, accompanied by the passion for innovation:
In 1957 the first evaporator was patented.
The 1970s were a period of great innovation and launch of new products. The Vesuvio peeler, the Califfo and Venus evaporators, the Stematic Long Run and Olimpic sterilizers. These are just some of the great news of those years.
In the 1980s, the innovations did not stop. The new ideas consisted in the development of existing products and several new technologies, including the Eldorado enzyme inactivator.
The 1990s were a period of great expansion for the Chinese tomato processing industry, with the birth of CFT China.
In early 2000 the first Apollo pre-concentrator was installed, one of CFT Group's most famous technologies.
In 2005 Manzini and Comaco have been acquired by Rossi & Catelli, and in 2007 Raytec Vision became part of the Group as well.
In 2011 the SBC company was acquired by CFT Packaging, together
with a significant experience and knowledge in the Beverage sector. Meanwhile, the international expansion continues: the commercial branches in India and Brazil were estabilished.
In 2012 CFT e CFT Packaging merged into a single company. Since 2014 there is a single operational headquarters for all commercial activities.
From 2015 to 2017, three new work teams dedicated to specific markets were born: Milk and Dairy, Product treatment, End of line.
From 2017 to 2019 CFT Group acquired the companies Rolec, Levati, Comac, PKS, Milk Project and SIAPI, becoming a single supplier with a very complete offer for the food and beverage industry. In this period, in 2018, the company enters the stock market.
Finally, in 2020, CFT Robotics was born, to bring all the group's end-of-line technologies to an even higher level.
It all started during the tomato season of 1945…
And today we are still here, grown in numbers but with the same passion that gave us birth, a long time ago, in a small garage in the center of Parma.