We design a wide range of sterilization retort models that share the same technological platform and are suitable for future upgrading. They are engineered to meet the highest food industry performances standards in terms of package integrity and respect of the organoleptic properties of the products.
GINYUS SWING AGITATING RETORT
Ginyus Swing Agitating Retort back and forth longwise inside.
Play video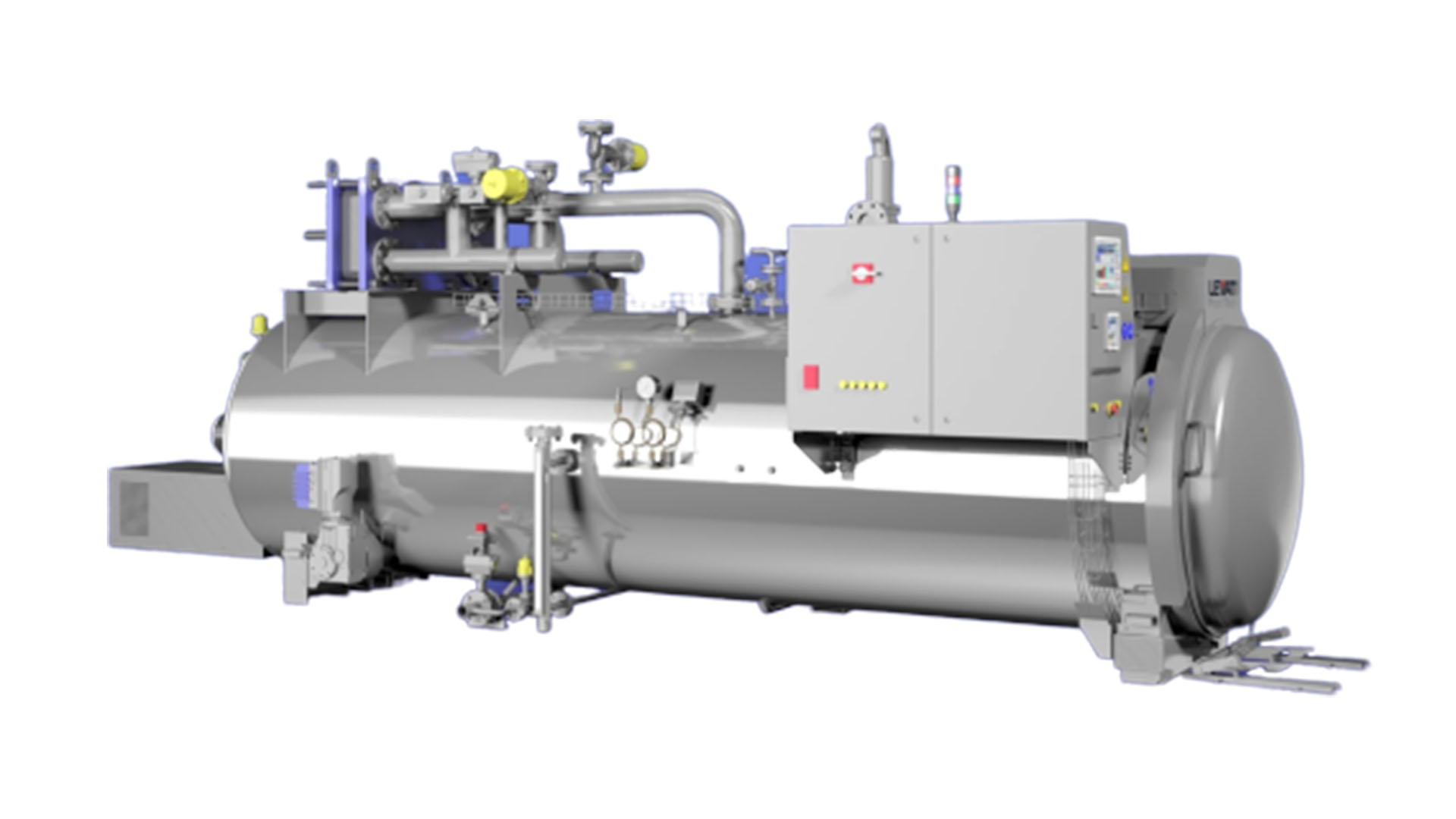 The GINYUS SWING AGITATING RETORT moves the products back and forth during all the sterilization phase. The "swing" system guarantees the best heat transfer efficiency and a drastic reduction of Maillard effect thanks to the Total Flexibility Movement. It is possible to set agitating recipes not only by setting the speed but also by setting the stroke length, the acceleration, the deceleration and a very effective set of multiple Stop and Go.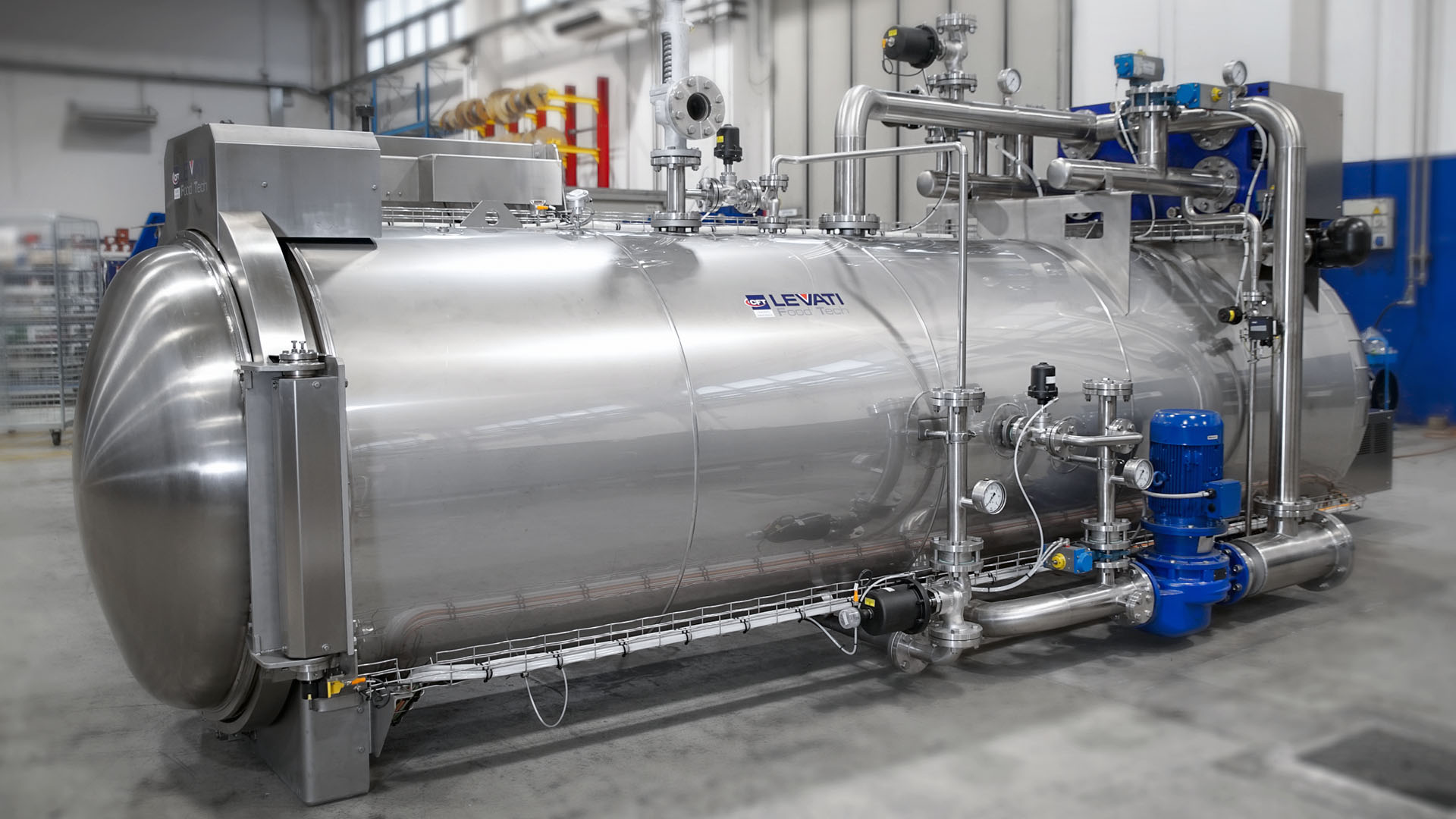 PRODUCTS: milk-based products, low acid drinks, high viscosity products like soups and creams
FORMATS: every kind of packaging as cups, trays, pouches, bottles and cans
BENEFITS:
maximum product safety: external easy clean water filter and installed flow switch

simple installation, reduced footprint area and low maintenance/startup cost

No contamination of the product

Total flexibility in agitation movement and drastic reduction of the maillard effect
Prima Static Retort
Sterilizing system for food products in containers.
Play video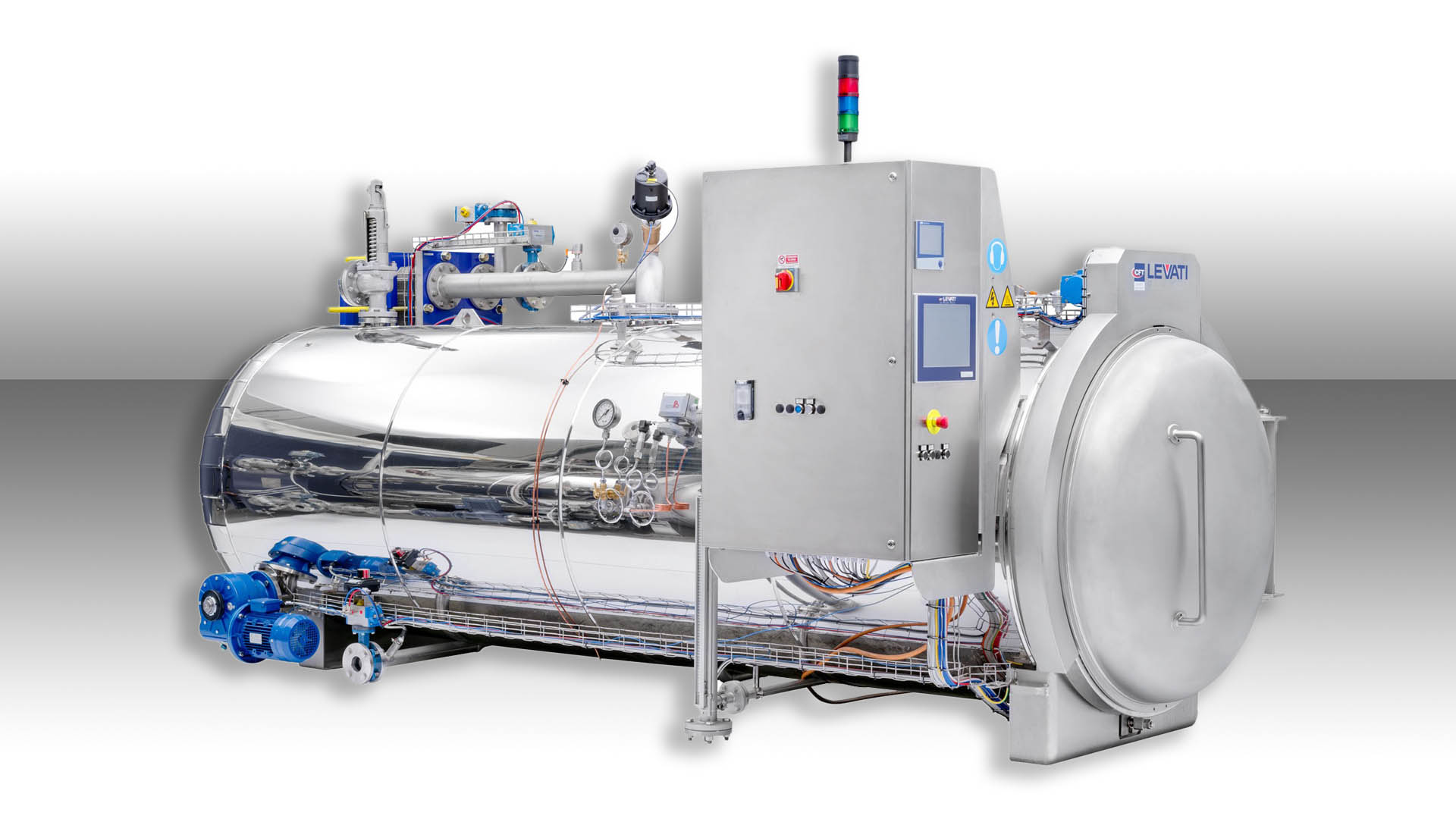 Prima Static retort can quickly sterilize cans, glass jars, pouches and trays in a very safe and gentle way, while preserving the product quality.
PRODUCTS: all food products in containers
BENEFITS:
Our locking system prevents external ring from seizing up by eliminating the rotation on the other two rings to lock and unlock the door: the gaskets duration is consistently enhanced

Our automatic locking system is energy saving: no need for any hydraulic supply unit or oil pressure supply unit

Steam, air and cooling water pipes constructed of stainless steel and located inside the retort

Rockwool 50 mm thick insulation with stainless steel coating according to safety rules in force

High flow rate centrifugal water pump for even water rain distribution in the phases of the process where water rain is foreseen

Stainless steel air/steam conveying plates located inside the retort
Prima Rotary Retort
Sterilizing system for food products in containers.
Play video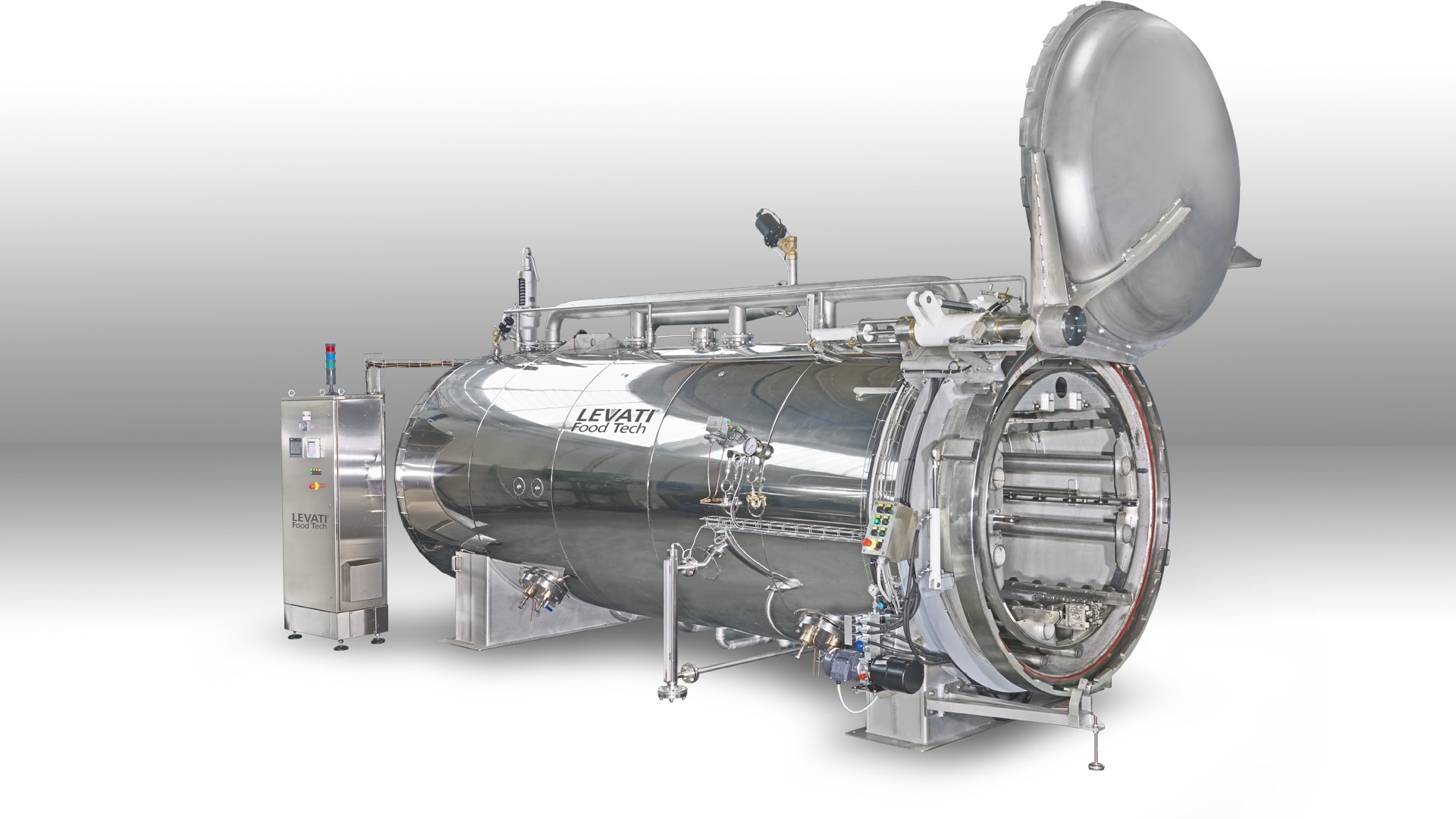 Prima Rotary sterilization retort can sterilize every kind of food container such as metal boxes, plastic and glass jars, pouches, trays and 'tetra-brik' type food container. It offers the chance to modulate water rain cycle to ensure even thermal heat all over and inside the crate, thus reducing sterilization time and enhancing considerably product quality.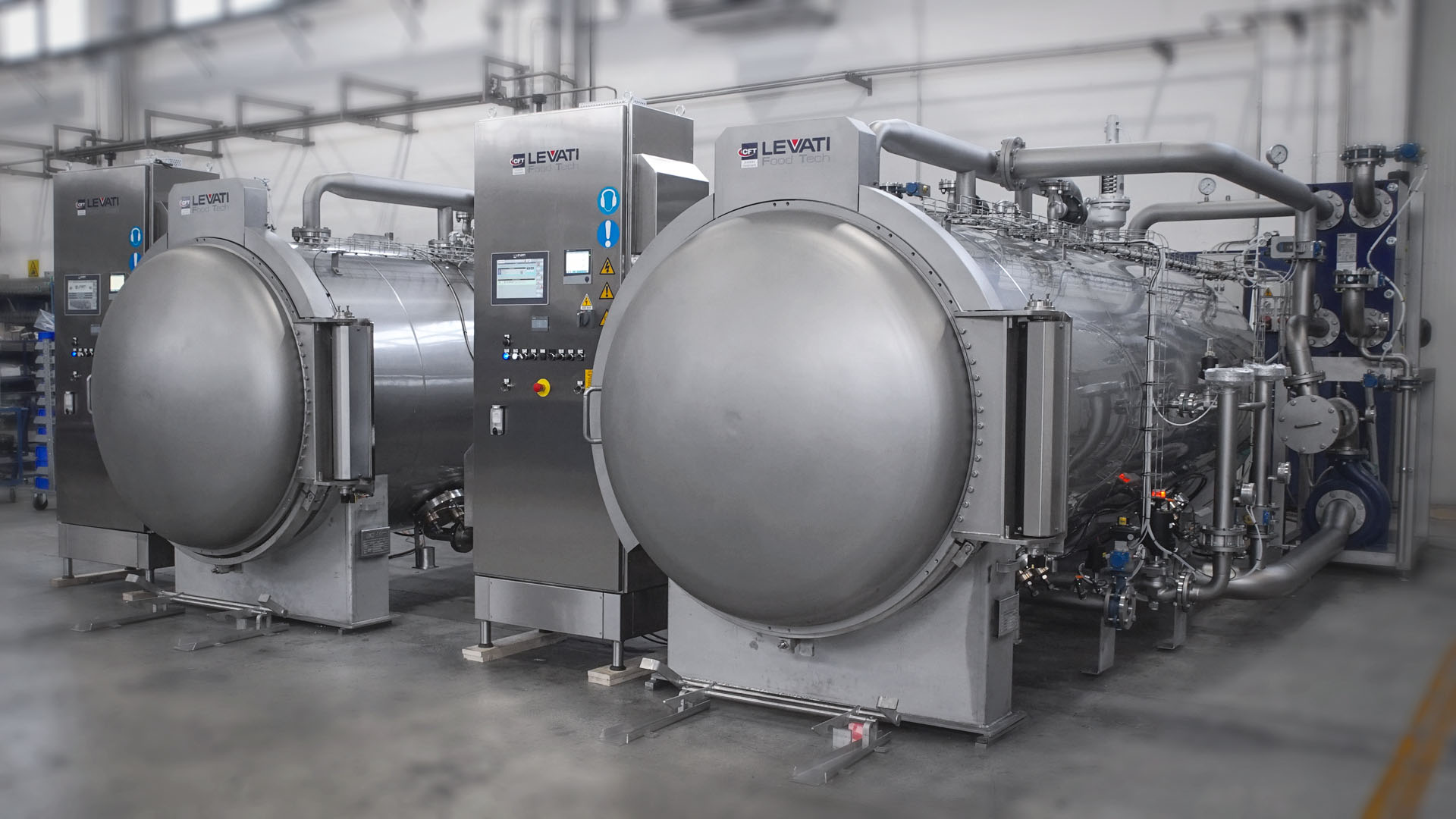 PRODUCTS: all food products in containers
BENEFITS:
The locking system ensures constant and even pressure distribution all along the circumference of the door

Traditional systems on the contrary can apply locking pressure only on 50% of the circumference

The locking system not only prevents external ring from seizing by eliminating rotation on the other two rings to lock and unlock the door, but gasket duration is consistently enhanced

The automatic locking system is energy saving: no need for any hydraulic supply unit or oil pressure supply unit, since our system is piped to mains compressed air system by pneumatic devices. Another benefit is long duration of door gasket thanks to complete absence of door rotation