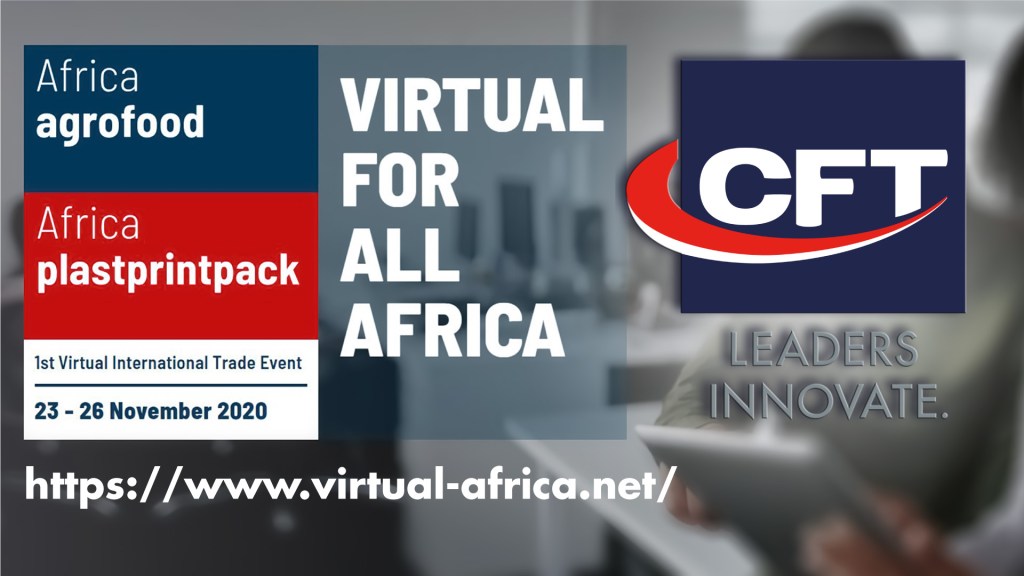 Virtual Africa Agrofood
We are going to participate in the first Virtual Africa Agrofood, the virtual edition of the yearly African tradeshow.
CFT Group will have its virtual space where visitors will be able to see an overview of our business and interact with our Sales and Engineering Departments.
During the tradeshow, we will focus on two main business areas:
Complete Liquid Food Processing and Formulated Lines
We will present our experience in handling dairy products and non-dairy alternative drinks, all the way from the reception phase to the liquid processing, evaporation, drying up and final conditioning. Our virtual space will feature also the complete range of machines for Cheese and Spreadable Cheese Industry, such as cradle and circular vats, cheese overturn systems, dosing and molding systems and mechanized tunnels and tracks. Our milk and dairy portfolio includes technologically advanced turn-key plants, designed to meet specific production demands: from treatment of raw material, different steps of cleaning, skimming, cooling, pasteurization and packaging of the final product.
In addition, we will showcase our complete lines and turn-key systems for the production of ready meals, developed according to the most advanced technologies, designed to allow the maximum flexibility in production and to guarantee the preservation of the organoleptic characteristics of the processed product.
Complete Processing Tomato Lines
Tomato processing is where CFT Group's history began. We have more than 75 years of experience in the design and realization of complete tomato processing line that give the best possible results in terms of quality and efficiency. During Virtual Africa Agrofood we will present our best projects realized in many African regions.