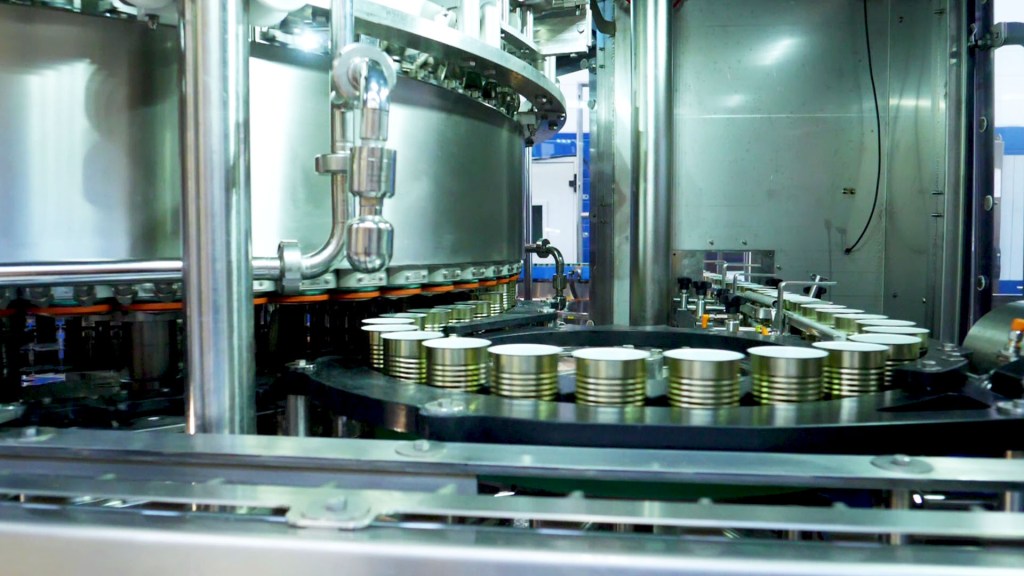 Food filling in cans
The first canned foods appeared in the 19th century, due to the need to preserve food during long sea expeditions. At that time, they radically changed sailors' diets, making them healthier and more nutritionally complete.
Today, the technologies for food filling in cans allow us to preserve food and protect its nutritional quality for long periods at room temperature. The modern packaging industry is highly controlled, and products and production facilities are subject to regular inspections, especially at a microbiological level.
Quality of canned foods
One of the advantages of food filling in cans is that heat sterilization does not change the macronutrients – proteins, lipids and carbohydrates – of canned food.
As a rule, the vitamins of canned products are preserved for about 70%, which is close to the vitamin retention rate of fresh foods stored for several days before being eaten.
With modern farming, harvesting and packaging practices, fruits and vegetables are packaged very quickly after harvest. The times are on average between two and four hours. This rapid processing facilitates the preservation of most of the original organoleptic and nutritional qualities of the product and limits the loss of water-soluble vitamins (vitamins C and group B).
The same goes for many types of fish, such as salmon, tuna and sardines. The process also retains their beneficial nutrients such as Omega 3 fatty acids, which are largely preserved by the packaging.
Sustainability of packaging in cans
Some might argue that the widespread consumption of food stored in cans implies the continuous development of industries dedicated to steelmaking, which causes pollution. This is in many ways a correct remark. In support to these comments, we can say for example that by 2020 the steel production process is estimated to be responsible for between 7 and 9% of direct greenhouse gas emissions from fossil fuels.
It is equally true, however, that steel of is the most reused packaging material in the world. In fact, it is estimated that a percentage of about 65% of all steel packaging for food and drinks is recycled. Steel is also a material that does not degrade and can be recycled several times without losing quality. Recycling a steel can allows to save the equivalent power for a washing machine load, 1 hour of TV or 24 hours of lighting with a 10W LED bulb.
All food and beverage packaging causes CO2 emissions at every stage of the manufacturing process, from the extraction, processing and production of raw materials to recycling. However, the steel packages optimally perform from an ecological point of view, because they can always be recycled.
Recycling the steel packages "closes the circuit" and CO2 emissions are drastically reduced. Furthermore, by investing in consumer education and awareness, current recycling rates can further improve in the future.
CFT Group for canned foods
Throughout its history, CFT Group has always dedicated a lot of attention and research to technologies for food packaging, especially food filling in cans. In fact, our goal has always been to work the raw materials safely, guaranteeing a finished product of extreme quality, while offering a packaging service of the same level.
Our technological platform dedicated to food filling was born and has developed precisely with the aim of dedicating part of the experience of our technicians and engineers to the design of food packaging equipment, in particular filling machines.
To date, CFT Group can offer many models of filling machines for food products with or without pieces and of different viscosities. One of the best technologies in this category is the Powertech machine.
Powertech
Powertech is a volumetric piston filler, specially designed to delicately handle products containing large pieces. Thanks to a special nozzle studied ad hoc and to an integrated control system, Powertech can take care of the packaging of food with pieces in a very precise and safe way.
The structure is based on a simple and hygienic design, which allows for low maintenance and easy use. A centralized lubrication system and the no-can / no-fill electro-pneumatic device are two key components of this machine. The filling volume is adjustable, and modifications can be made even while the machine is running.
Vacuum fillers
Another important category of fillers is that dedicated to filling liquids after eliminating the air inside the containers.
These machines can take care of filling liquids such as oil, vinegar, brine, syrup, sauce, etc. The containers can be made of glass or metal of various sizes and shapes, containing whole, sliced or diced fruit or vegetables, tuna, meat or other foods.
The filling with the preservation liquid takes place after having eliminated any air inside the containers, while the residual air in the head compartment is eliminated with a jet of steam before closing the containers by means of a seamer or capper.
In the video below it is possible to appreciate the key features of one of our food filling line.
Visit this section of our website for a complete overview of CFT Group filling technologies.

Sources:
apeal.org
worldsteel.org
circulareconomy.worldsteel.org