Our expertise in the manufacturing of equipment for the Food industry has led us to design very efficient mixing and cooking systems featuring the most advanced technologies available in the field, allowing us to offer a great production flexibility. These machines grant to process liquid and homogenized food as well as chunky foods and liquid food with particles.
Vulcano cooker/mixer
Cooker and mixer for different types of food products.
Play video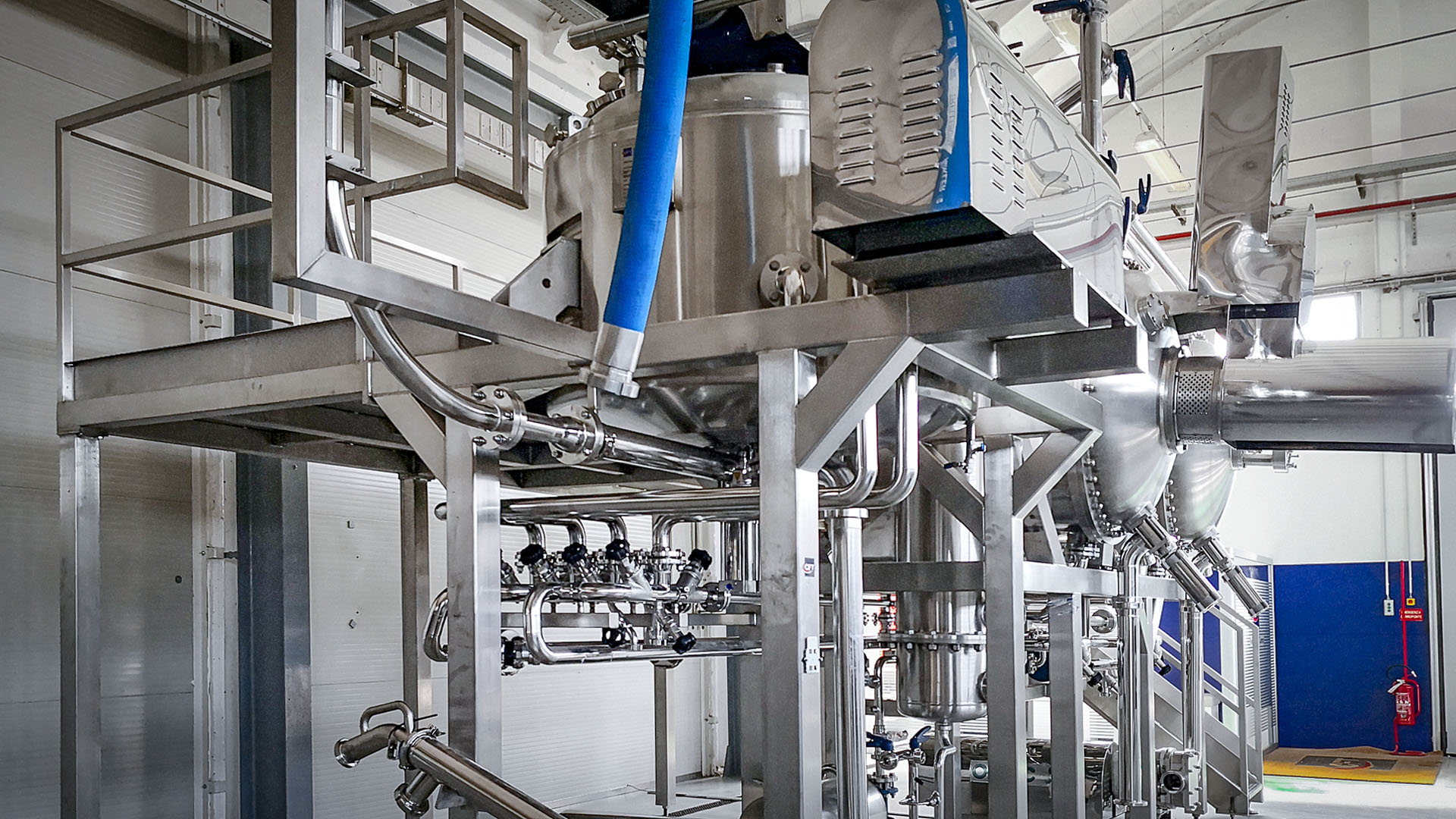 The patented cooker Vulcano is the perfect combination between the simplicity of a cooking kettle and the best final product that can be obtained. One single vessel where it is possible to process different operations: mixing, frying, deaeration, cooking, milling, concentration.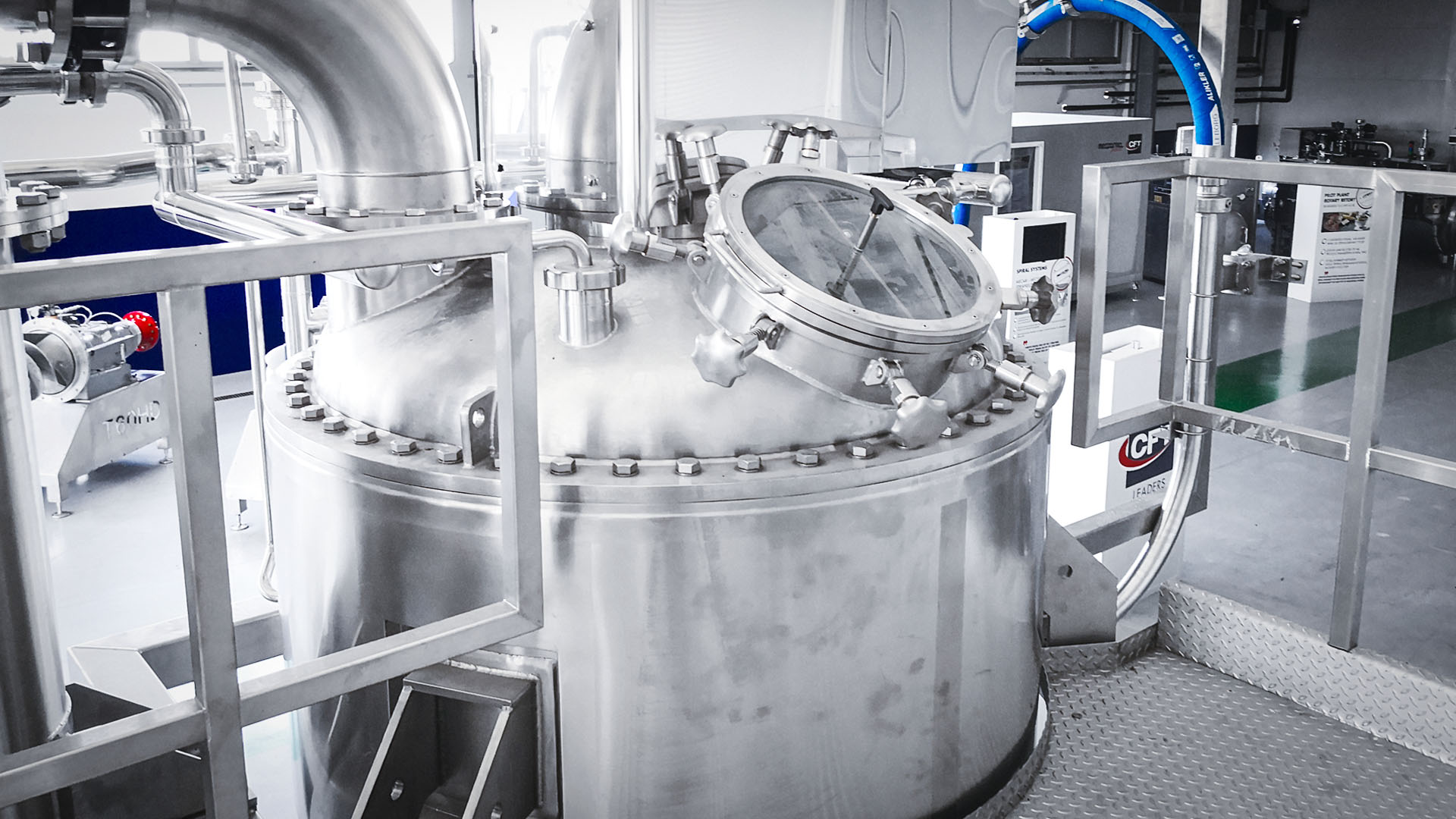 PRODUCTS: jam, jelly, natural puree, concentrated puree, product with particulates, meat or vegetables soup, sauces, spredable cheese, baby food
BENEFITS:
Unique ratio of heating surface to volume ensuring fast cooking capabilities with reduced process time and increased productivity.

Optimal product mixing and uniform processing temperatures delivered via the special agitator with counter-rotating technology controlled by frequency converter.

The excellent finishing of internal surfaces and the special screwless and springless connection between scrapers and shaft ensure easy cleaning and reduced washing time.

AVAILABLE SIZES: 1000 – 1500 – 2000 – 3400 liters
Titano rotary coil
Complete and automatic processing system for the production of fruit-based products, bakery products, desserts.
Play video
The main unit of this plant is composed of a jacketed vessel operating with hot or cold water and a rotary coil heat exchanger located inside. The rotary coil causes agitation and mixing while heating with hot water or steam, or cooling when operated with water or chilled water. The unit is mounted on a platform with easy access for  the operator.
OVERVIEW
All the technological phases from ingredient feeding to final product are processed inside this vessel. All set-ups and process phases related to the final product are set by a simple and user-friendly automation menu that guides the production manager in the best practice for a wide number of recipes.
Excellent product quality
Ideal for batch evaporation
Dice integrity (in products containing diced fruit)
Large surface area for efficient heating/cooling.
Minimal product losses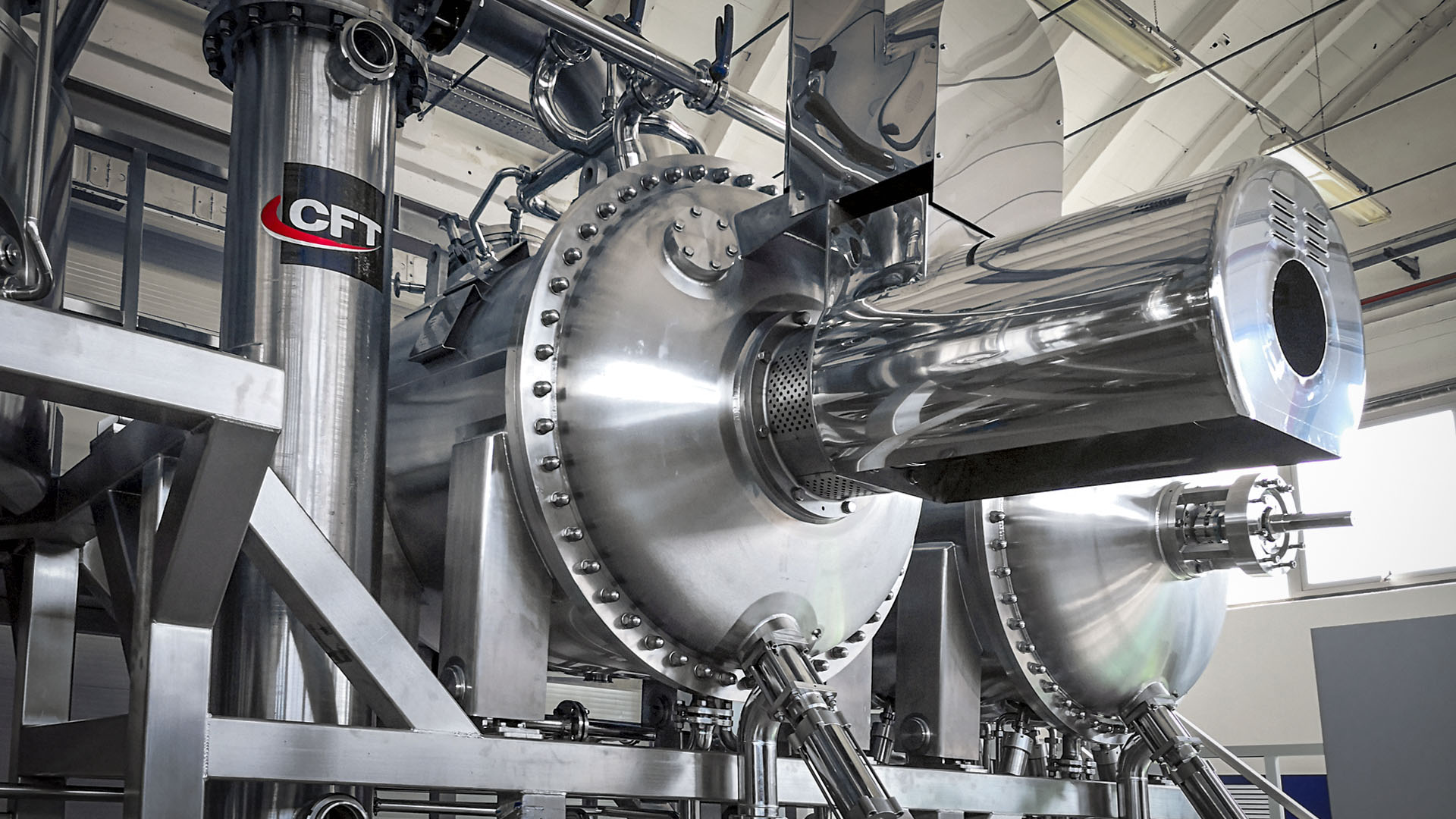 PRODUCTS: fruit/vegetable purèe and concentrates, harissa, jams and jellies, marmelades, fruit preparations containing starches and pectin's, specialty products with high sugar content
BENEFITS:
TITANO achieves an effective mixing and uniform heating temperature of the product with minimal damage to the integrity of particulates

Extremely flexible unit, capable of preparing a variety of products with various recipes

Excellent heat transfer coefficient thanks to the rotary coil heat exchanger

Full control and regulation of various process parameters such as temperature, pressure and rotary coil speed

Minimum stagnation points to ensure excellent cleaning and sanitation

AVAILABLE SIZES : 600 – 1200 – 2400 – 3200 Liters
Saturno Mixing Tank
Mixing tanks specially engineered and manufactured for blending or for storage/buffer of liquid and viscous food preparations.
Play video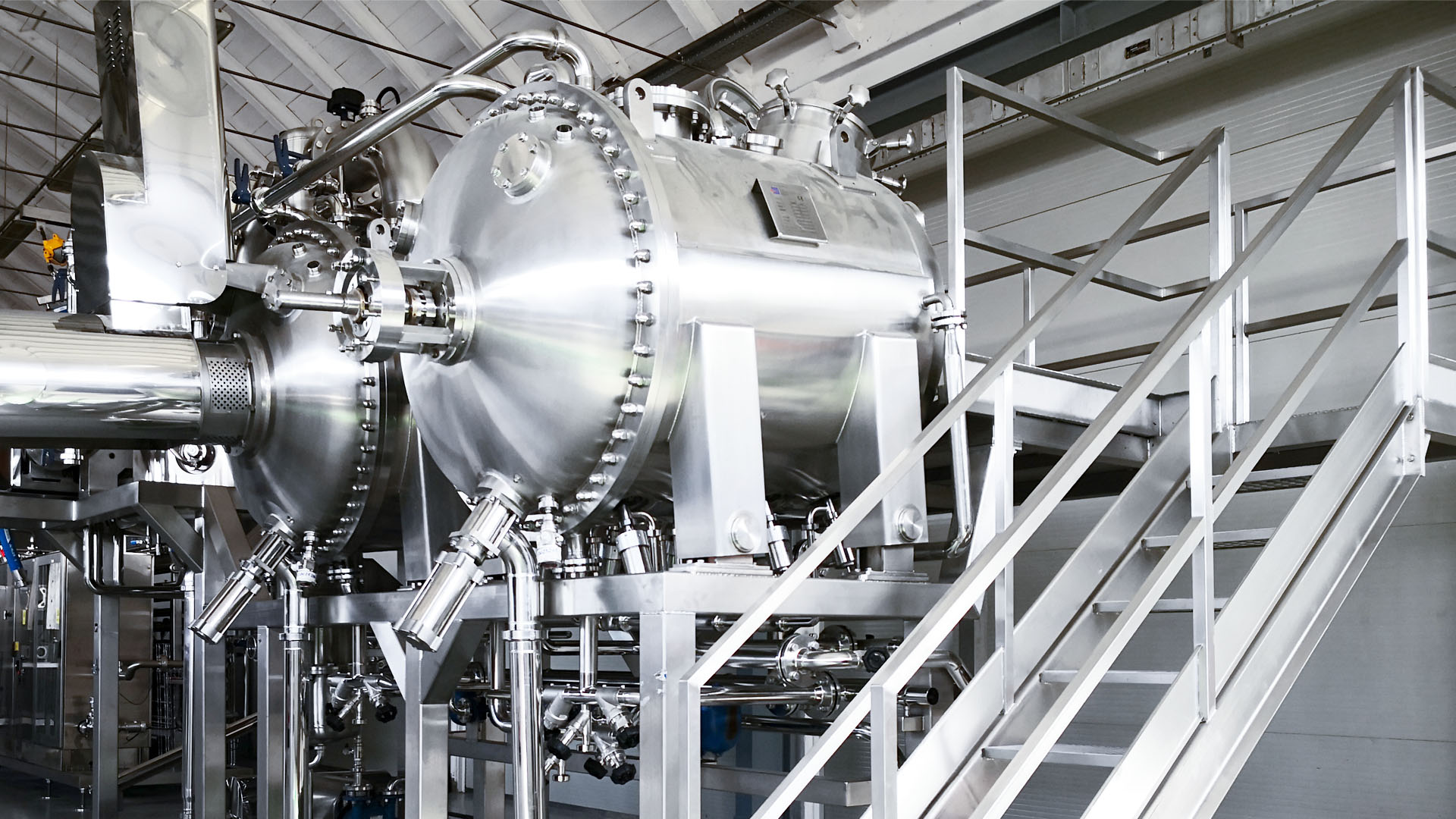 SATURNO Mixing Tanks are ideal for blending or for storage/buffer of liquid and viscous food preparations.
OVERVIEW
Further uses include powder mixing and  blending of  liquid foods.
Available options:
Aseptic version
Operation under vacuum
Insulation
Jacket for heating (steam/hot water) or cooling (water/chilled water)
Direct Culinary Steam Injection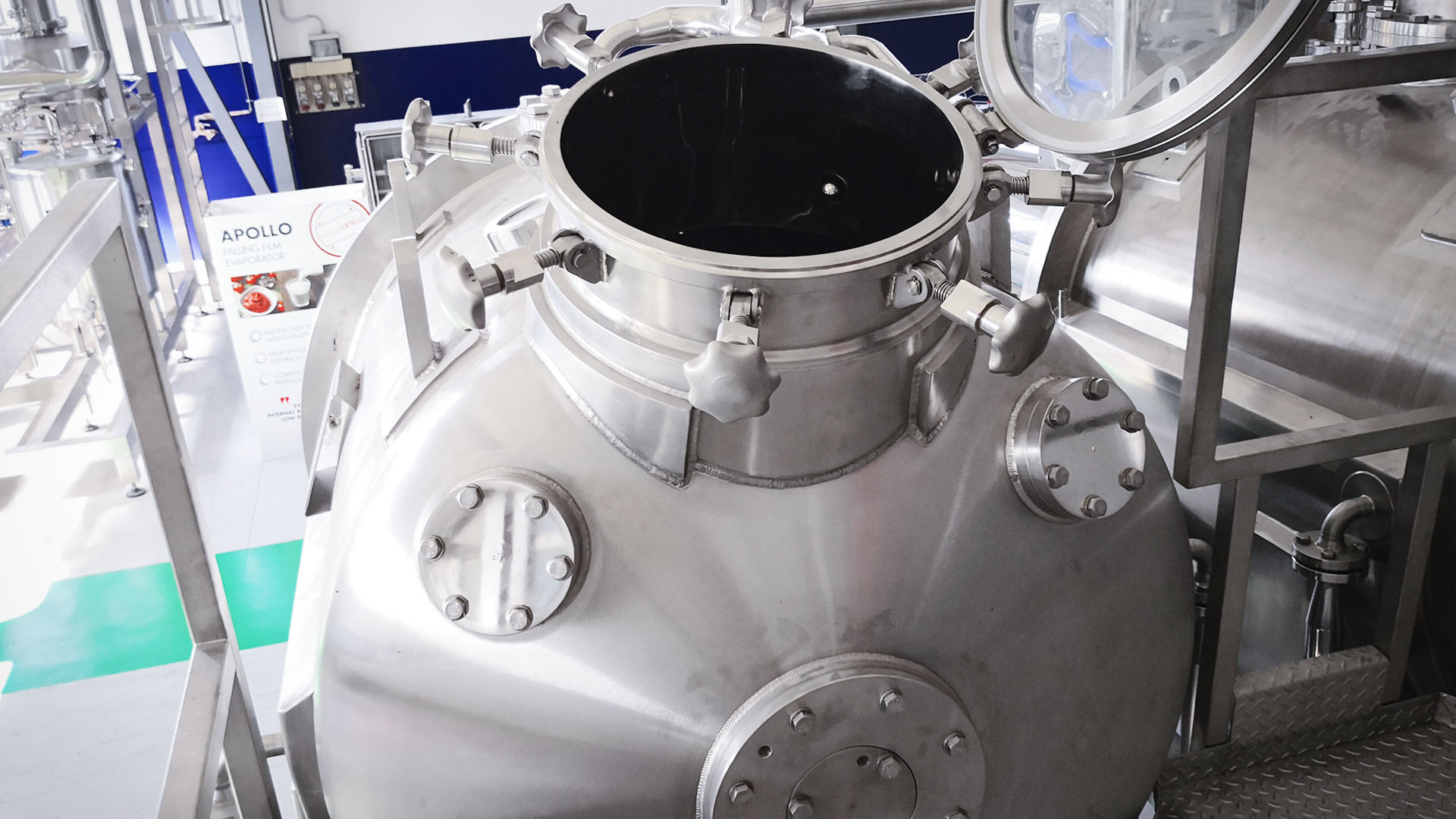 PRODUCTS: jams and fruit preparations, minestrone soups, moulinè, multiphase baby food, tomato dice, jelly, natural puree, concentrated puree and pastes, all food liquids with particles, chunks, solid content
BENEFITS:
Particulate integrity (in products containing diced fruit)

Homogeneous and fast mixing

Uniform temperature distribution

Sizes range from 500 liters to 10.000 liters

Agitator speed modulation driven by frequency converter