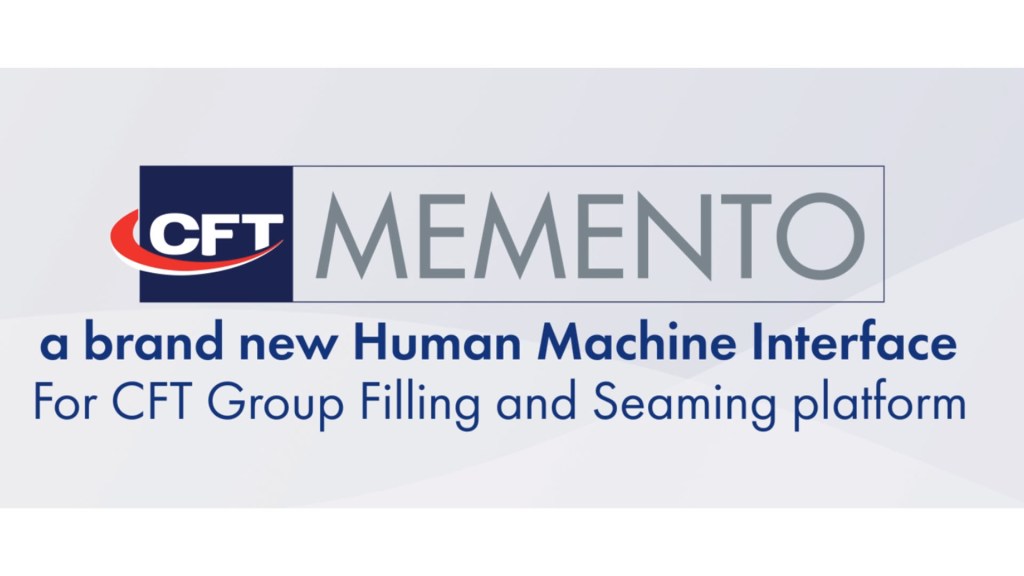 Memento: the new CFT HMI platform
After much programming and optimization work, a few months ago we implemented the new CFT HMI platform, called Memento: a modular software available for all our filling and seaming machines. Complete, easy to use and with the opportunity to personalize, it represents a real revolution in the field of human-machine interfaces.
This new CFT HMI platform is born from our experience in designing filling and seaming lines, and allows operators to interact with the machine in a simple and intuitive way. Memento offers managers and line supervisors new opportunities to improve the quality of the final product, by improving the efficiency of the production system, thanks to in-depth analysis of strategic data, with a 12-month historical archive.
Complex becomes simple
Thanks to the user-friendly dashboard, which can be personalized by each individual user, you have direct access to all the most relevant information and commands, making human-machine interaction even more efficient and safe.
The innovative modular HMI Memento structure is designed according to the real needs of the user. Navigation is intuitive and can be personalized, allowing you to consult all production data on a single end-point and to manage critical issues on filling and seaming machines in real time. Some of the features that make Memento easy to use are:
HMI display on Full HD capacitive multi-touch screen (15" or 18")
The dashboard can be personalized with direct access to all information and the most relevant commands
A menu always available, at your fingertips, with links to the most commonly used user procedures
Troubleshooting with clear indication of actions to be taken for each detected malfunction
The possibility of loading unlimited production recipes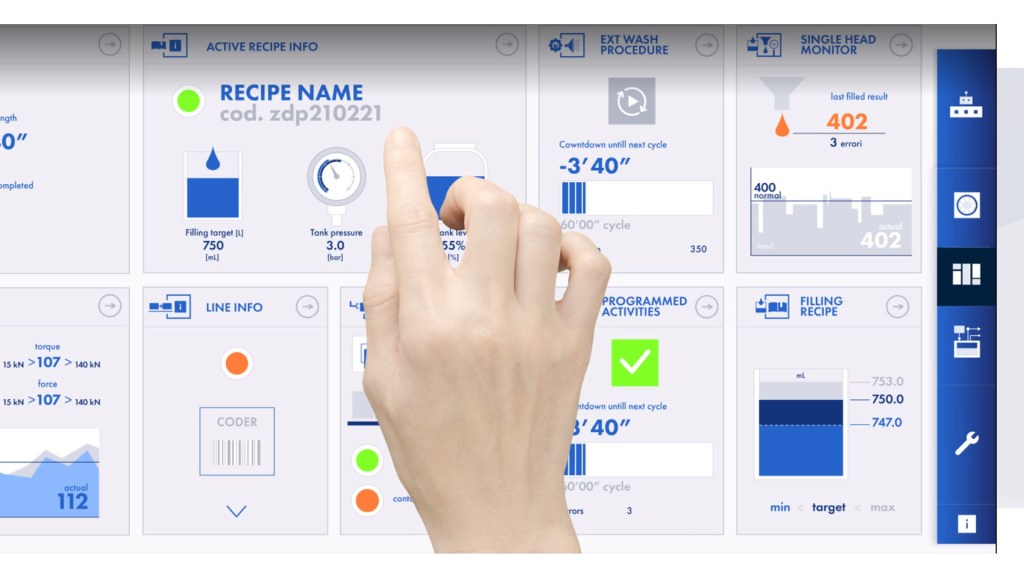 Memento's advantages
Digital transformation applied to filling lines improves the efficiency and management of the entire production department. From this point of view, the main innovations can be summarized as follows:
Supervision of KPIs for better general performance analysis, with an outward view (interfaces, power supplies, etc.)
Real-time status monitoring and specific warnings in case of malfunctioning
Analytics available for the previous twelve months, with remotely viewable and downloadable reports that can be personalized
Intuitive visuals make it easy to understand the information
Ease of use for different operators
The new CFT HMI platform will also be extended to other CFT technologies in the future. This will allow us to have a uniform and highly advanced corporate standard for all our human-machine interfaces.
Market outlook for HMI platforms in Industry 4.0
The future is heading in this direction: an increasingly close, yet flexible and modular relationship between humans and machines. We at CFT are also part of this continuous evolution: Memento is the most advanced human-machine interface solution ever developed in our company.
Research by the Industry 4.0 Transition Observatory* shows that Industry 4.0 applications are the area of greatest investment for Italian manufacturing companies; specifically, Advanced HMI technologies will increase by 18% in 2021.
HMI technologies play a decisive role in enabling the transformation: 38% of companies are using IoT tools for process analysis, while 34% say they are using new digital dashboards to improve line operations. We are confident that the Memento HMI platform will have a positive impact on our customers' management of the production process, reducing associated costs and improving market competitiveness.
*https://www.osservatori.net/it/ricerche/comunicati-stampa/industria-4-0-italia
CFT Memento video