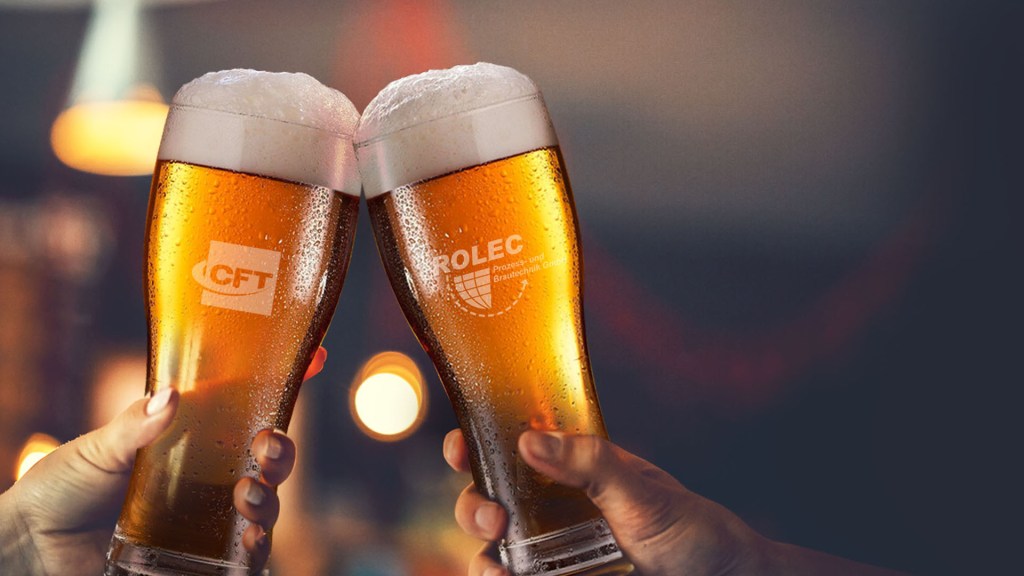 ROLEC: The Brewery Experts
ROLEC is very well known in the craft brewing industry worldwide with a long list of customers in the US. ROLEC is part of CFT Group, an Italian company which also includes COMAC, a brand leader in the production of kegging equipment for the Beer sector.
CFT Group offers complete turn-key solutions for the brewing industry, starting from raw material handling to the final, packaged beer. ROLEC also provides equipment and services to bigger, more traditional brewing companies and groups, which often have a different set of priorities when deciding which equipment suits their needs best.
The company was founded in 2003 by Wolfgang Roth and Karl Lechner in Chieming, Bavaria, with the vision to help all brewers to produce exciting, top-quality beers to compete in the markets. One of the core markets of the company has been the craft brewing industry (with its demands for plants that can handle high raw material loads to produce high gravity and strongly hopped beers). Besides breweries, ROLEC has also carried out projects in the soft drink industry.
In an exclusive interview with Food and Beverages Tech Review, Ralph Wittkopp, Managing Director at ROLEC, provides us insight into the way the company helps its international clients ranging from small craft beer breweries to large-scale industrial breweries in conquering various technological challenges.
1. How does ROLEC offer unique benefits which overcome the challenges that clients consistently face in the food and beverage space?
The challenges that the customers face depend on the region they are based in. In some countries, the market is saturated. However, in others, the price levels for beer are very competitive, which makes it difficult for the breweries to remain profitable and then again, in other markets, building size and general space is an issue. Over and above in some countries, the tax and legal situation are complicated.
While we cannot help much with the latter, for the other set of challenges, we can offer solutions that help the customer to be successful. We strongly believe in customised design.
We discuss our clients' needs in detail and provide technological support for new products or engineering studies to help with the upfront planning of the brewery. Based on this information we can provide solutions which help the brewers to produce beer which differentiates them from the competition in the market, focus on high efficiency of the plant to keep the production costs at a very low level or can fit plants into spaces which often look insufficient at the beginning.
2. Tell us about the different kinds of solutions offered by your company and help us understand the salient benefits they render to your clients.
ROLEC offers a range of solutions for the brewing market.
Firstly, our core business is the supply of turn-key plants starting with research plants of 2-5hl, brewpubs starting at 5 hl and up to industrial plants with an approximate capacity of 500 hl and 12 brews per day. Together with our sister companies CFT and COMAC, we can do that now for the complete production and packaging equipment. We also provide solutions to expand, upgrade or modify plants that were not initially built by ROLEC, so-called brownfield projects.
The engineering services mentioned previously form an important part of our business. This gives ustomers upfront clarity about their requirements before deciding on an investment, thereby helping them to develop new products that provide an advantage by increasing their profitability due to higher efficiencies.
Finally, we are expanding our service solutions together with our sister companies. It is important to us that the provided plants remain efficient and reliable even years after their installation and handing over to the client. ROLEC's maintains its own service department which is currently expanding and is linked to the other service units within the CFT Group, utilizing the additional benefits which can only be provided within a big, international group with global subsidiaries that helps bring us closer to our customers.
3. Please take us through the journey of your firm and help us understand how it has evolved over the years.
Over the years, the company grew to its current size of over 30 employees and recently moved into new, bigger facilities within Chieming to allow for further growth. In 2016, CFT Group bought 60 per cent of ROLEC and the remaining 40 per cent in October of 2019. Wolfgang Roth and Karl Lechner stepped down as managing directors, but remain connected to the company as advisors.
I was hired as the new managing director from July 2019. As part of CFT Group, ROLEC will continue to operate out of Chieming and can offer, together with its sister companies, the full range of equipment for a brewery beginning with raw material intake and processing to the final bottled and packaged product as turn-key supply.
The company has established its footprint in many parts of the world, especially in Asia and Europe. We focus on increasing our activities in other regions, including South America and Africa while maintaining our commitment to the North American market. To manage these additional activities, we have increased our staff and facilities over the last few years.
4. Tell us about some instances where your company has helped its clients overcome their business challenges and attain the desired outcomes with your solutions.
When setting up a brewery, numerous facts need to be considered during the engineering phase. Whether the project is greenfield or brownfield, ROLEC supports its clients with the experience of multiple projects in a wide range of technologies, plant sizes, and services. A high percentage of our customers come to us when they are running out of production capacity due to increased sales.
In a recent turn-key project for a new production site for one of our customers, the discussion between ROLEC and the client started more than a year before the final scope, and general setup of the plant was fixed. Case studies for three different locations with various possible layouts for each site were done during this phase of engineering. After deciding on a final location, a detailed engineering phase was carried out. We managed to fulfil all the client's demands without sacrificing any efficiency even though we had limited space to work with.
Throughout the engineering phase, we worked with all stakeholders, the owners of the brewery, civil engineering companies, public authorities and other suppliers for the project. Our approach to complex projects is to customise our solutions to the customer's requirements.
We share our knowledge within the up and downstream technologies, utility consumptions and civil work issues we have gathered in the past.
ROLEC's approach to complex projects is to customise their solutions to meet the customer's requirements
5. What are the management's plans regarding new solutions and new technologies that could play a role in ROLEC's offerings and geographical expansion in the near future?
Regarding new technical developments, the solutions we are working on are too early in their development stages to be described here. I can say that we are working on existing technologies in three ways—namely, increasing capacity, adding monitoring and automation capabilities, and developing a range of simplified units that can be upgraded later.
The hugely successful DRYHopnik is now being developed for big capacities so that industrial breweries can also produce beer styles such as IPA efficiently.
Our new technologies allow customers with limited budgets to get started and upgrade at a later stage when capacity requirements are increasing, and funds have become available.
A part of the ideology of CFT Group is to manage their separate subsidiaries in a way that maintains their market approach and philosophy, while also using the advantages of being part of a big group. ROLEC will remain in Germany, having recently just moved into new, larger premises and will be the CFT Group centre of expertise for brewing.
Taken from: Food & Beverage: technology review (Europe edition)