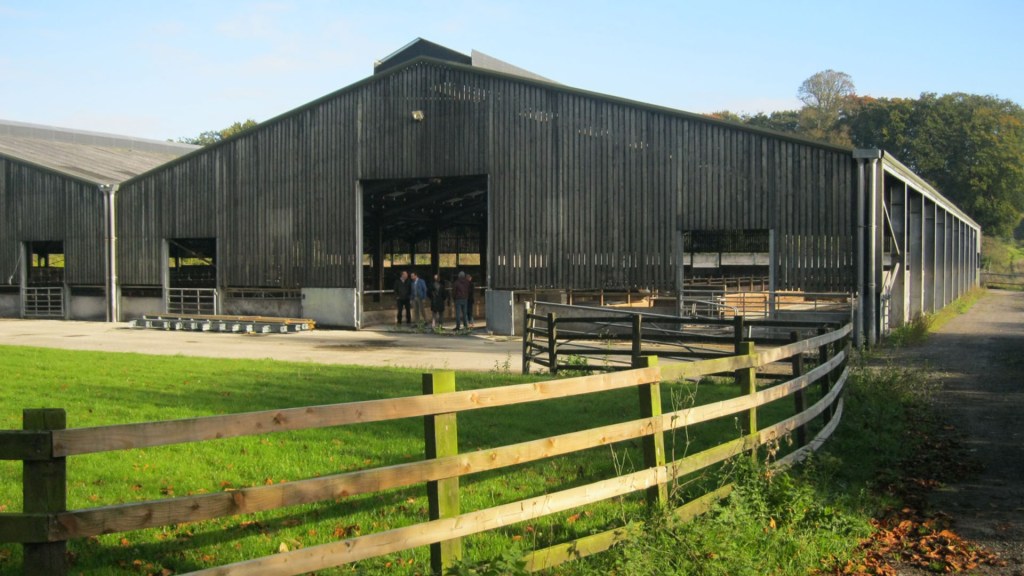 Beer production and filling for WBB
Five years ago, there was a large barn in a green area known as Frilsham Park, 85 kilometres west of London. The first time we went there, we had accepted Tom Lucas, CEO of West Berkshire Brewery's invitation, to make an inspection. Tom immediately proved to be a person who is enthusiastic about his job. He had only recently become CEO and had summoned us to tell us about his ambitious project, which concerned beer production and this particular large barn in Frilsham Park.
The structure was surrounded by greenery and covered an area of about 12,000 square metres. When we went in, it looked as though it had been abandoned. The rough concrete flooring was still covered in rubble, bits and pieces of straw and some work tools. In the air there still lingered the strong aroma of barn and animals.
Tom illustrated his idea to us: "We want to build a new brewery here to produce and bottle our beer". From the way he smiled, it was clear that he was already imagining it, and we were ready to make his dream come true. We were going to turn that abandoned barn into a brewery and filling facility, made up of cutting-edge technology.
In this video, shot at that time, David Bruce, West Berkshire Brewery chairman, is promoting a fundraiser and describes his project which also shows the original barn.
Complete solution
A few months later, the CFT Group's idea and project won Tom and the whole West Berkshire Brewery team over, standing out from the other proposals for quality, efficiency and long-term planning.
As with many other previously built plants, we also prepared a convincing "Master Plan" for WBB to make the most of the plant area in as rational a way as possible. To do this, it was necessary to predict what the seasonal peak production characteristics of that geographical area would be, optimizing internal logistics and keeping various development hypotheses in mind.
Beer production
The project foresees a production based on four 60-hl (cold must) brews, with a 96% yield equal to 240 hl/day – equivalent to around 50,000 hl/year.
The 3-vat CFT Group brewing room can produce 4 brews a day, extendable to 8, and is a state-of-the-art system in terms of technology, automation and attention to energy saving. It is made up of:
Plant for receiving, storing, cleaning, milling and transporting malt with a 1,500 kg/h capacity, with a vacuum system to reduce to a minimum the areas needing explosion prevention systems.
83-hl boiler, complete with static water-malt mixer with low oxygen content and CO2 protection; a low-speed, three-blade mixer for homogeneous and gentle mixing; accessories sized for low speed so as to reduce the stress to which the must is subjected.
140-hl filtration vat with CFT technology: consisting of a balanced hydraulic system, guaranteeing a high filtration speed, the clearness of the must and a solid content of less than 100 mg/l. All managed through a specific constant flow automation programme.
108-hl brew kettle, capable of working with large hop yields. The two-level tangential entries of the must ensure efficient extraction of volatile components and other unwanted substances.
External boiler with low evaporation rate and a difference in temperature between product and steam of 0.7° C.
Automatic loading of hops to reduce operating times and risks.
Controlled temperature extraction system of the aromatic components of the hops.
Three-container washing system, with a customizable washing programme and compatible with the working times of the individual components of the system.
Before the addition of the yeast, the must that arrives from the brewing room is cooled using a single phase heat exchanger. All of the heat from the must is conveyed in the brewing process.
We designed the cellar for a production of 50,000 hl. The sizing of the tanks was calculated on the basis of production needs and proportionate to the characteristics of the filtration, saturation and storage room. All phases of the process are connected and optimized for an automated production with very short cycles and in complete safety.
Beer filling
For the bottling and canning of the beer, we proposed to the West Berkshire Brewery the two machines best suited to their needs: a counter-pressure filler for glass or plastic bottles and a monobloc for filling and seaming cans.
The MASTER RS GLASS / PET filler model is based on counter-pressure filling technology, suitable for filling glass or PET bottles with carbonated or still drinks. This machine is one of the best examples of CFT Group technology for medium / high capacity lines.
Its main characteristics are:
Speed from 3,500 to 60,000 bottles per hour.
Excellent performance in terms of precision in filling, product management and control of the oxygen content, with PLC controlled work phases.
Hygienic design
Centralized decompression system
Master C Block is an automatic monobloc for filling and seaming cans. It reaches a speed of 15,000 cans per hour and is part of CFT Group's "premium" range dedicated to craft and small to medium-sized breweries. Its strengths are:
Extreme compactness: small size and very high production standards. Suitable for small spaces and easy to install
High precision: technology with highly accurate flow meter
Speed: up to 15,000 cans per hour
Also available as a 24-valve version
The cans and bottles are then labelled and palletized on the spot.
Installation, training and testing
The placement of the brewery's vats and equipment around the structural pillars and the trusses of the old barn had to be planned down to the last centimetre: in particular, the height of the ceiling required ad hoc design and careful examination of the pipes.
In parallel with the commissioning of the plant, we started three months of training dedicated to WBB employees. As always, in order to use the most advanced technologies, training is necessary to learn the correct skills. However, CFT Group's control and monitoring system guarantees easy and intuitive processes, with new and faster work procedures that have contributed to increasing staff motivation and an improvement in the company's internal communication.
In a short time, the new project had a positive impact on several fronts. In addition to the economic aspects, the consequences were to minimize risks and a new incentive for the brewery to commit itself to environmental sustainability. As we always repeat to all of our customers, eco-compatibility is in fact an essential factor for beer production philosophy. This includes both the optimized treatment of natural resources and the attention to identifying potential energy or consumption inefficiencies and correcting them in time.
Tom and all of his staff were extremely satisfied with the project and the installation and decided soon afterwards to further expand their brewery with new tanks and other components, thus achieving a production capacity of 100,000 hl/year.
In this short video you can see an overview of the finished work: where once there was a barn, there is now a complete plant for beer production, bottling and canning.
We have grown significantly in the last 30 years.
We have recently completed our fourth expansion, which was the biggest one!
Our brand new brewery was designed and installed by CFT Group (Parma – Italy) and included a brewery with a 70-hl capacity made up of 5 vats, including a dispenser and hop filter.
In the cellar we have eight 60-hl, twelve 120-hl and one 240-hl fermenters.
We are very enthusiastic about this new equipment: we will be able to produce even more beer while being more flexible and more creative.

West Berkshire Brewery website
Market prospects*
Beer is the most important sector in the global alcoholic beverage market, both in terms of volume and value. Market revenue amounts to $522,299 million in 2020. An average annual growth of 9.4% is expected over the 2020-2023 period. Most of the revenue is generated in the USA ($101,847 million in 2020).
*Source: statista.com
Matteo Avanzi – Sales Area Manager
Elio Poloniato – Brewing Process Engineering Specialist
Daniele Biancheri – Process Technical Manager
Cristiano Macrì – Packaging Process Manager