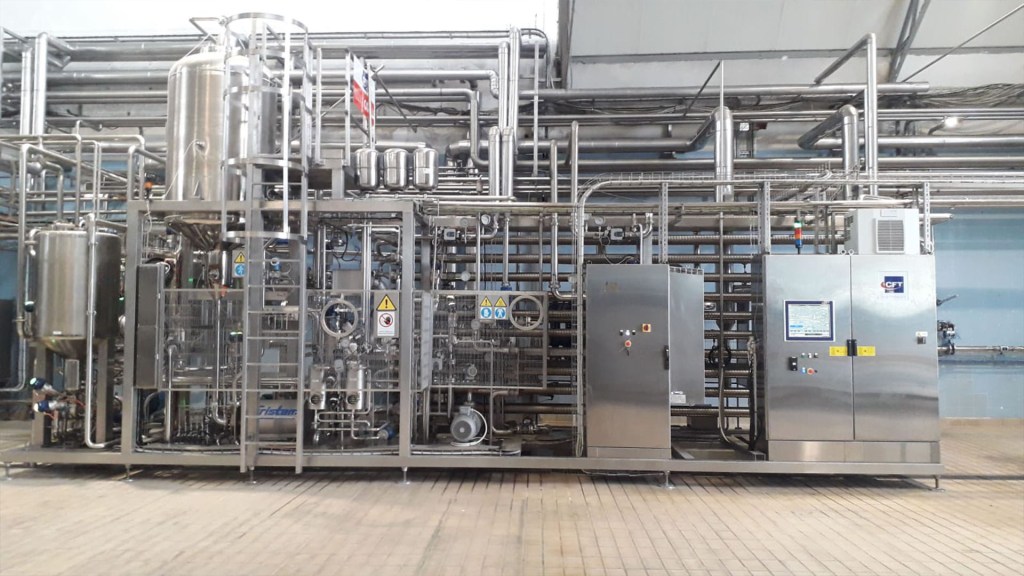 UHT treatment machines for milk and other liquid foods
In CFT Group we can handle dairy products and non-dairy alternative drinks all the way from the reception phase to the liquid processing, evaporation and drying through to the final conditioning. The UHT treatment machines for milk and dairy are one of the cores of our sterilizing range.
We can supply integrated solutions for evaporation and spray drying, along with all the complementary processing equipment (upstream and downstream). Any customer requirement can therefore be answered through one unique supplier.
Our know-how is founded on comprehensive research and development. Before being launched on the market, most of our new machines and lines are tested full-scale at leading dairies worldwide. Our local subsidiaries and representatives support our business and premium after sales service all over the world.
Today, CFT Group is one of the strongest players in the milk and dairy processing industry, thanks to our worldwide presence and premium engineering know-how in this kind of applications.
CFT Group's UHT treatment machineries
We can proudly affirm that we have engineered one of the best UHT treatment machines for milk. Stematic Long Run is the most advanced and reliable equipment dedicated to UHT treatment for milk to be aseptically filled. The product is subject to an aseptic, thermal, and continuous process by means of direct steam injection, and the process can be managed through a fully automated control and supervision system.
We have started to build the first Stematics in the 70's and have kept developing the technology during the last 40 years. Today, the high quality and reliability of Stematic Long Run are granted by international patents and continuous innovations.
The key features of this top-level UHT treatment equipment are:
High capacity (from 1 m3 up to 40 m3/h)
Ability to process viscous product (Ex. Cream, bechamel, spread cheese …)
Continuous and long production cycles with intermediate cleaning. This results in low incidence of times, low costs related to washing cycles and reduced product losses
Short residence time of the product at the sterilization temperature
Instantaneous product heating and cooling
Preservation of the organoleptic and nutritional characteristics of the finished product
Minimal phenomenon of fouling and fat separation
Low indice of lactulose (<150)
As an alternative to the Stematic Long Run, we propose the Olimpic FT.
The OLIMPIC FT sterilizer and pasteurizer series is designed for sterilizing low and medium viscosity food products such as milk, juices and fruit drinks, concentrated fruit juices and vegetable juices, natural fruit purees, vegetable milks and smoothies.
The shell and tube heat exchanger are the core point of this equipment. The tubular heat exchanger guides the product through several straight inner tubes surrounded by a service medium in a shell.
Straight pipes can be corrugated to increase the heat transfer coefficient. Energy savings can be obtained through a system with an intermediate loop product/water/product or by product-to-product tubular exchangers, which guarantees up to 80% energy recovery. The inner bundle of the product-to-product exchangers can be removed for inspecting the product flow path.
Olympic FT can be coupled with all our aseptic fillers or with our piston fillers in pasteurizer version.
The key features of this top-level technology are:
Pressure control to guarantee that the sterile product pressure is always above the service fluids pressure
Special design of tanks and heat exchangers to reduce product losses due to the water/product interface
Energy saving up to 80%
Compact Design: the equipment is delivered to the customer wired and pre-tested in our factory in Italy
Use of positive displacement pumps for mass transfer
Plant washing fully independent from external, uncontrolled factors
Automatic cycle for descaling all heat exchanger water jackets
Reduced washing times by means of backflush included in the cycle
Windows based internally developed and user-friendly software supervision with touch screen and industrial computer
Working capacity up to 40.000 l/h
The perfect compromise between Stematic Long Run and Olimpic FT is our Stemix: in this plant the product is indirectly warmed up to 115°C through a tube chest heat exchanger, then it is sterilized by means of direct steam injection followed by aseptic flash cooling.
The key features of this top-level technology are:
High product quality
High heat recovery
Heat recovery direct product / product by sanitary type tubular heat exchanger
Heat recovery indirect by closed water circuit
Capacity up to 40 m3/h
UHT treatment machines for milk and aseptic tanks
All CFT Group's UHT treatment machines for milk and liquid foods perfectly pairs with our aseptic tanks, which are used for liquid, semi-liquid and dairy products' aseptic storage, upstream the final packaging.
The tanks are designed and tested to withstand 5 bars temperature and full vacuum, allowing to work in absolute safety in every working conditions. They can be built in any dimensions, vertically or horizontally, according to the type of product and available space. Before usage, the aseptic tank is sterilized by means of steam, and subsequently cooled and water recirculation within the external jacket. During the cooling phase, sterile air is also introduced in order to prevent possible air aspiration due to the vacuum effect.
During the working stages, the tank is maintained under slight sterile air overpressure, prepared in a specific plant equipped with absolute filters and automatic pressure control. The tank is also equipped with a series of pneumatically controlled valves for the feeding, the discharge, and the end line filling. A special valve, called "stand-by", allows to isolate the processing plant from the aseptic tank under absolute sterile conditions.
This makes possible to continue emptying the tank even if the sterilization plant is inactive or is in the cleaning phase.
The tank is predisposed for the addition of a variable speed agitator, to be utilized for all products which tend to sediment and separate.
The capacity range is from 500 to over 50.000 liters.
Aseptic Experience Lab
The Aseptic Experience Lab is an area within our headquarters, where customers and potential customers can try the efficiency of CFT Group's technology. The Lab is already in operation as a pilot plant for UHT treatment, where the Olimpic, Stematic and Stemix machineries are fully testable together with the aseptic tanks. The Lab will soon be expanded with other technologies regarding Milk and Dairy, Food Processing and Beverage industries. For those who wish to find out more about CFT Group's solutions, the Lab is the perfect place to see the machines in operation.
If you are interested in the Aseptic Experience Lab contact CFT Group to book your visit!
UHT treatment market
The UHT Milk Market is expected to grow at a CAGR of 5.34% worldwide during the period 2020-2025. Ordinary milk is more susceptible to bacterial development, and UHT has gathered a growing interest thanks to its non-refrigeration qualities. The longer shelf life, with the product that maintain its stability at room temperature, is another crucial aspect that is going to continue powering the demand in the market worldwide.