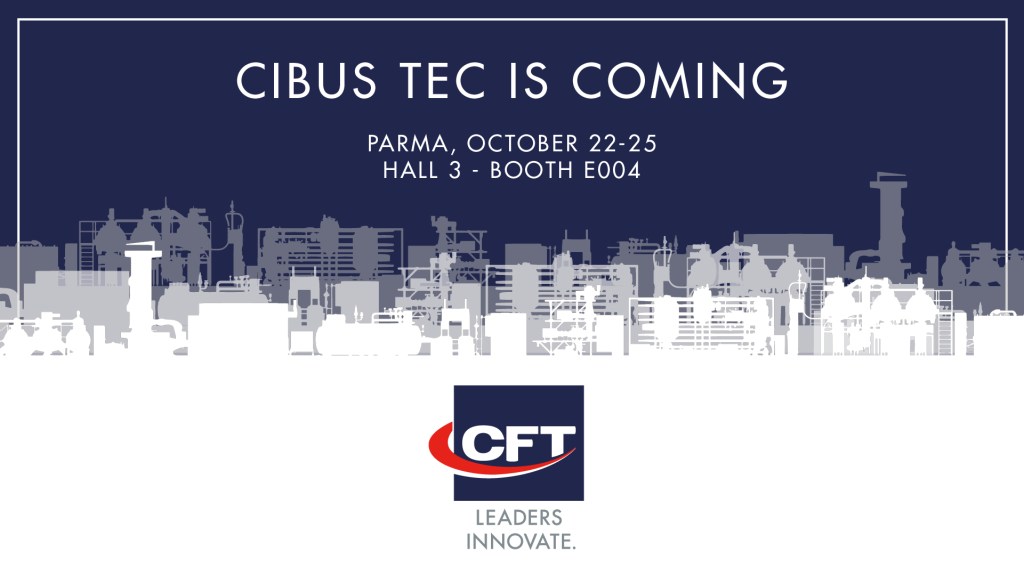 Cibus Tec: CFT Group as you've never seen it before
The history of the Food Valley is the history of CFT Group
There is no better place to talk about food and the technologies related to the food industry than Parma: the history of the Food Valley and our city in particular has witnessed the birth and development of some of the largest companies in the industry.
At CFT Group we are proud to be part of this story and to continue to be part of it as key players after more than 70 years of technologies and innovations. We will take part in Cibus Tec along with all those who have contributed to the Group's growth: our 15 brands (including the most recent one, Siapi), our subsidiaries, our agents and our customers from all over the world. Our stand, called "CFT Town", will represent a synthesis of all the best technologies developed by CFT Group to date in an area of over 2,000 square metres.
But let's go in order, because the days before Cibus Tec are equally important. The whole international network of agents of CFT Group has been convened in Parma for two days of training and events.
A united, well informed sales network
We believe that a company's sales force is much more effective when each member feels they are part of a Group which supports and develops its professionals, making the starting points and objectives clear from the beginning.
For this reason, the weekend before Cibus Tec will be the time to introduce our entire sales network to CFT Group's new headquarters in Parma, inaugurated for the occasion and representing a perfect synthesis of the history and growth of the company. And that's not all: the history of Parma will also be centre stage, with a gala dinner inside the Palazzo della Pilotta, one of the "pearls" of our city, which houses works by artists such as Caravaggio and Leonardo Da Vinci.
These will be precious moments for all the members of CFT Group and will prepare us in the best possible way to face, united and positive, the most important event of the year.
Cibus Tec
"It will not be just a simple stand" was one of our regularly repeated mantras in recent months during the preparation for Cibus Tec. More than just an exhibition area, it will be a small town of 2,000 square metres with neighbourhoods, streets, inhabitants and (of course) good food.
There will be five "districts" in our CFT Town:
Processing: the realm of evaporators for tomatoes, milk and fruit, together with juice extractors, dryers and beer-processing machines.
Aseptic: the area dedicated to the preparation of products such as soups, jams, ketchup and fruit products, in addition to the Ohmico technology and sterile fillers.
Filling, Blowing and Seaming: in addition to hosting our best filling and seaming machines, this area will be the place where the latest arrival at CFT Group, Siapi, will show one of its plastic bottle and keg blowing machines.
Product Treatment: the family of technologies that includes peelers, spirals, centrifuges, autoclaves.
End of Line: the whole world of secondary packaging.
Each of these five areas will house different machines. In some cases they will be brand new products, in others they will be the current top-selling machines of CFT Group, in others they will be well-known technologies that will be redesigned and specially sized to be exhibited at Cibus Tec.
CFT Group Lab
Another innovation that we will showcase during Cibus Tec will be CFT Group Lab. Already in use for several months, it is an area within the company's headquarters where customers and potential customers can test the efficiency of our technology. The Lab is already in operation for some solutions concerning milk and vegetable drinks, but will soon be expanded with some of the machines on display during Cibus Tec.
We strongly believe in this project and we think that it is extremely valuable.
For those who wish to find out more about our solutions, the Lab will be the perfect place to see the machines in operation; those who work in the company in design, research and development, will have a unique testing environment, which will enable them to analyse and constantly innovate the solutions to be offered to the market.
See you in Cibus Tec, from 22 to 25 October at Fiere di Parma – Hall 3, Stand E004