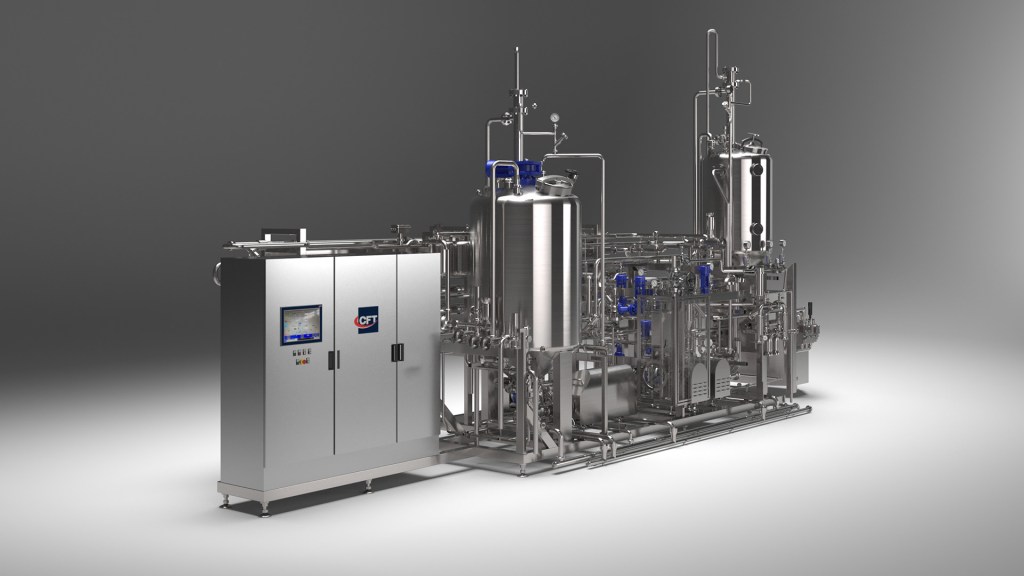 Machines for pasteurization and sterilization
CFT Group's range of machines for pasteurization and sterilization based on different technologies is internationally renowned. Each sterilizing technology, such as tubular/concentric, tube/scraped surface, heat exchanger systems and others,) features specific applications for the liquid foods/semi-liquid and viscous food Industries.
Our machines for pasteurization and sterilization have some common characteristics:
Option to choose from different product holding tank according to specific needs according to shape / agitation:
– vertical with slow agitator for purees or pastes
– vertical with fast agitator for juice, dairy or liquid products
– horizontal with helicoidal slow agitator for formulated products and products with particles
According to air / water removal:
– Atmospheric
– Deaerator with condenser and vacuum pump
– Deaerator – concentrator to gain water removal – brix and viscosity increase.
Standard execution in 316L stainless steel. Special materials for corrosive products (such as tomato ketchup or products in salty carrier with salt content above 3% and temperatures above 100°C): SAF2205 or SAF2507 super duplex.
Management of low-pressure sterile nitrogen / steam to keep product over pressure in ALL production phases including product diversion.
SIP with hot water at 121°C for faster, safer, easier transition from sterilization to temperature stabilization to production phases. Such strategy reduces the risks of contamination during temperatures stabilization phase due to possible vacuum generation of steam operated SIPs and it reduces product thermal shock on hot cooling pipes.
Suitable for Low-Acid products. Compliant with CFR Title 21 part 113: "Thermally Processed Low-Acid Foods Packaged In Hermetically Sealed Containers".
Option to choose from different pumping solution and homogenization.
Option to pre heat – de aerate and complete heating cycle for optimal de aeration.
Compact version "CUBE" (in the picture below) with integrated filling heads in a single unit designed to fit a sea freight container (up to 8.000 kg/h).
Heat recovery option for plates and shell-in-tube geometries with water intermediate loop or direct product to product exchange up to 80%. Comes with differential product pressure control strategy to avoid contamination of aseptic product with cold incoming product.
Differential sterile product to cooling water control as an option.
Available with local and / or remote PC control from control room.
Ethernet connection for remote control and diagnostic.
Production variables and alarms storing on local PC, export to factory ERP, production reports on product sterility assurance upon requests.
Each of our machines for sterilization and pasteurization have special features designed to better perform with specific products. Here is an overview of each model.
Olimpic TC
Olimpic TC is a sterilizing plant designed for processing products with high consistency and viscosity values, for example tomato concentrate, destined for subsequent aseptic filling.
The product is subject to a thermal cycle by means of indirect heat exchangers, concentric pipe type, made of four pipes having decreasing diameters and placed one inside the other. Product flows inside the central annular space, while heating or cooling fluids circulate both inside the internal and external jackets, in counter-current to the product. CFT Group's patented special flange allows hygienic design and reduced thermal expansions.
This aseptic process allows to preserve product at room temperature over long periods of time, while the whole plant is fully automated.
Olimpic FT
The FT model is an aseptic sterilizer for low and medium viscosity food products such as milk, juices and fruit drinks, concentrated fruit juices and vegetable juices, natural fruit purees, vegetable milks and smoothies.
The shell and tube heat exchanger are the core point of this equipment. The tubular heat exchanger guides the product through several straight inner tubes surrounded by a service medium in a shell.
Straight pipes can be corrugated to increase the heat transfer coefficient. Energy savings can be obtained through a system with an intermediate loop product/water/product or by product-to-product tubular exchangers, which guarantees up to 80% energy recovery. The inner bundle of the product-to-product exchangers can be removed for inspecting the product flow path.
Olimpic FT can be coupled with all the CFT aseptic fillers. or with CFT piston fillers in pasteurizer version.
Olimpic SR
The Olimpic SR is a scraped surface indirect heat exchanger for food and dairy products.
The machine is composed of a driven rotating cylinder shaft, equipped with scraping blades inserted into an external jacket, in which the heating or cooling fluid circulates. Product runs throughout the space between the rotating shaft and the jacket, while heating and cooling fluids circulate externally, through the jacket, in counter-current to the product. The OLIMPIC SR can be coupled with all the CFT aseptic fillers, or with CFT piston fillers in pasteurizer version.
Olimpic P Plates
The Olimpic P is a series of sterilizers and pasteurizers is manufactured with plate heat exchanger for preheating, pasteurizing and cooling liquid products such as dairy products, beers and other beverages.
Olimpic P consists of a unit of corrugated metal plates with openings to allow the two fluids to pass separately through and between the heat exchange plates. The plates are compressed between the fixed frame plate and the movable pressure end plate by mechanical tie rods. The plates have a gasket that seals the channels between the plates and directs the fluids to the alternating channels. The size and number of plates are determined by the flow rate, the physical characteristics of the fluids and the thermal requirements.
Olimpic Cube
Olimpic Cube is a series of sterilizers and aseptic fillers, featuring a preassembled turn-key group of aseptic components on a skid requiring little space and time to be installed. The CUBE series is equipped with an aseptic filling head equal in integrity to the Macropak AF/2 (CFT Group's top range fillers).
Ohmic Series
The Ohmic treatment represents the fastest technology to heat food with solids content, preserving the integrity and the organoleptic characteristics of the final product.
Thermal treatment is an essential step in all production processes that have the goal to destroy micro-organisms by the application of heat.
The Ohmic technology is the fastest and most gentle technique to heat food products containing particles, thus preserving the integrity and the physical characteristics of your product.
The Ohmic heater is the core of a complex system whose main components are:
buffer tank specifically designed to mix particulate and liquid
special-designed double piston pump equipped with ball valves on suction and delivery sides, specifically designed for products with pieces,
feeds the sterilizer-cooler with low product pulsation
ohmic heating modules
divert valve
aseptic cooler
aseptic buffer tank
Our range of ohmic heaters features operating characteristics that exceed the performances traditionally guaranteed by other heaters available on the market. This ohmic system offers high efficiency with a total performance above 97%.